Bosnia Must Get on EU Accession Path or Risk Split, Envoy Says
(Bloomberg) -- Bosnia-Herzegovina must revive its bid to join the European Union to avert the possibility of the ethnically divided country being torn apart, the country's top international envoy said.
Among six EU hopefuls in the Western Balkans region, the country of 3.3 million is among the furthest from accession. The process has stalled since 2016 as its politicians bicker on issues including electoral changes that would allow minorities to hold high office.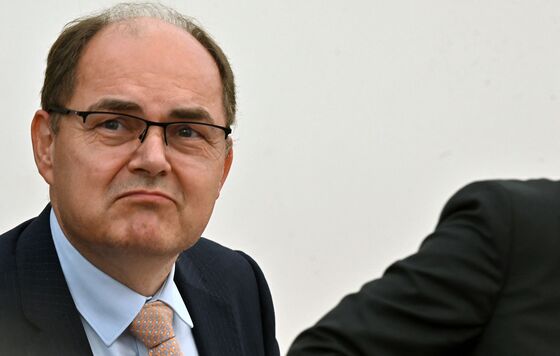 "There is no time to lose," Christian Schmidt, the German politician who took over the role as High Representative in August, said in an interview from his office in Sarajevo on Tuesday. "The requirements for accession are very high and they are not fulfilled, but there is a lot of good development. There are steps going in the right direction."
The urgency to salvage Bosnia -- the theater of Europe's bloodiest post World War II conflict -- is palpable as Russia increases its support for Bosnian Serbs, whose leader has been voicing threats of secession. 
Most recently, Bosnian Serb leader Milorad Dodik blocked joint institutions and threatened to pull troops out of the military and create a separate force in Republika Srpska. Dodik, who counts Russian President Vladimir Putin among his allies, controls about half the country. The other half is shared, at times uneasily, by Bosnian Muslims and Bosnian Croats. 
"My message to Mr. Dodik is that his responsibility to his electorate is to work, not to block," Schmidt said. "I'm counting here on a younger generation. I see a lot of committed young people who simply want to have a better life."
The U.S.-brokered peace accord in 1995 charted a new constitution for Bosnia but left the country divided along ethnic lines with weak centralized rule. The office of High Representative was created to oversee the implementation of the treaty. Russia, one of the mediators in the Dayton agreement, has disagreed with Schmidt's appointment and wanted to scrap the post. 
Schmidt, 64, said he sees "some progress" in pushing through the key legislation needed to restart the accession effort that has been stale for years as politicians haven't been able to agree on measures how to make that work. 
"There are problems in the country, but unlike 26 years ago, nobody has to fear to be shot in the streets," he said. "I have some slight optimism that the international community can help us work on it, but the key partners in Bosnia also need to work on it."