Boris Johnson Woos Scotland on Virus Response, Strength of U.K.
(Bloomberg) -- British Prime Minister Boris Johnson stressed the backing his government has given to Scotland during the coronavirus pandemic, as he seeks to quell support for a fresh independence vote.
"The great benefits of cooperation across the whole of the U.K. have never been clearer than since the beginning of this pandemic," Johnson said in a statement ahead of a visit to Scotland on Thursday.
He highlighted 8.6 billion pounds ($11.8 billion) given to the Scottish government and U.K. action to protect 930,000 jobs in the country. "We have pulled together to defeat the virus," he said.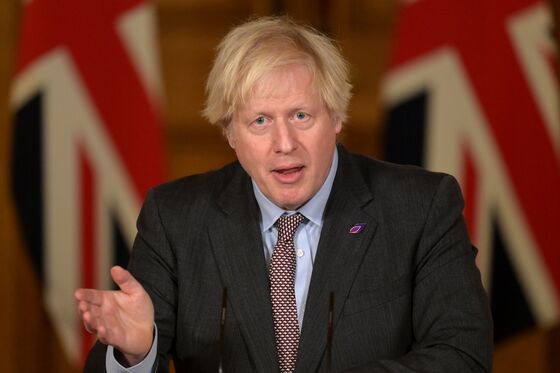 Johnson's visit comes amid growing calls for another referendum on Scottish independence, with polls showing Nicola Sturgeon's Scottish National Party on track to win May's regional elections. Sturgeon has pledged to hold a plebiscite in the "early part" of the next parliamentary session should her party win a majority.
The question of whether Scotland should break away from the rest of the U.K. continues to hang over British politics. Though a 2014 referendum saw the unionist cause win by 55% to 45%, opinion polls have consistently shown higher support for separation following Britain's vote to leave the EU. By contrast, 62% of Scottish voters in the June 2016 referendum favored remaining in the bloc.
The SNP said Johnson's visit is evidence he is "rattled," and that it contradicts the government's "Stay at Home" order due to the pandemic.
"This is clearly a prime minister in panic," said Keith Brown, an SNP member of the Scottish Parliament. Johnson "knows the Tories are losing the argument on independence," Brown said.
Further detailing the help given to Scotland, Johnson's office said the British army is helping to set up 80 new vaccination centers and more than 415,000 people have been vaccinated in the country. The U.K. is still grappling to contain the health crisis of the pandemic, this week becoming the first European nation to record more than 100,000 deaths.
"Working together as one truly United Kingdom is the best way to build our covid recovery," Johnson said. Mutual cooperation "is exactly what the people of Scotland expect and it is what I have been focused on," he said.
The prime minister's Scottish visit came as new data showed the gravity of the coronavirus situation in the U.K., with one of the country's largest studies of the disease showing infection rates still very high. One in 35 people in London was infected at the time of the Imperial study, conducted over the Jan. 6-22 period.
"We're not seeing the sharp drop in infections that happened under the first lockdown," said professor Paul Elliott, director of the Imperial study. "If infections aren't brought down significantly, hospitals won't be able to cope with the number of people that need critical care."