U.K.'s Johnson Urges 'Extreme Caution' Over Christmas Break
(Bloomberg) -- U.K. Prime Minister Boris Johnson urged the public to exercise "extreme caution" and avoid meeting elderly people at Christmas, but he stopped short of canceling plans to let households mix over the holiday.
"We can celebrate it sensibly, but we have to be extremely cautious in the way we behave," Johnson told members of Parliament on Wednesday. He said the government doesn't want to "criminalize people's long-made plans."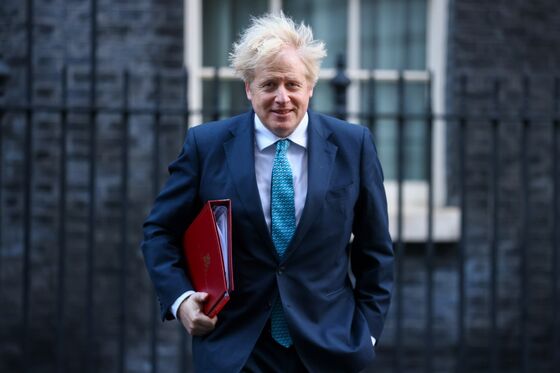 The public must "exercise a high degree of personal responsibility" and "avoid contact with elderly people wherever possible," he said.
The premier's new advice against meeting older people who are more vulnerable to Covid-19 follows a surge in infections that forced him to impose tighter rules on London and other areas of southeast England.
He rejected calls to scrap the easing of rules across England to allow families to meet over Christmas, even though doctors have raised concerns the relaxation will lead to a spike in cases, hospitalizations and deaths.
Smaller, Shorter Christmas
Under the rules, which were previously agreed across the four constituent nations of the U.K., as many as three households will be able to gather together for five days between Dec. 23 and 27.
"When we say three households can meet on five days, I want to stress these are maximums, not targets to aim for," Johnson said at a televised press conference later. "A smaller Christmas is going to be a safer Christmas, and a shorter Christmas is a safer Christmas."
The premier also said people with elderly relatives "might want to delay seeing them until they've been vaccinated."
He was backed up in his message by England's chief medical officer, Chris Whitty, who urged people to keep their celebrations small, short, local and to think about vulnerable people.
"We all accept there's an increased risk at Christmas," he said. "Any kind of period where people come together in groups that otherwise wouldn't meet leads to an increases in risk and that will lead to an increase in hospitalizations and deaths."
Johnson told MPs that there was still "unanimous" agreement with the devolved national authorities over keeping to the Christmas plans, but this was instantly contradicted when Welsh First Minister Mark Drakeford announced only two households will be allowed to join together over the five day period.
In Scotland, First Minister Nicola Sturgeon urged caution and said the safest option would be for people to spend Christmas in their own home with their own household. "It's a five-day window of opportunity, but don't feel you have to use all five days. Pick your day," she said.
Johnson had been urged by scientists and doctors to rethink his plan to allow people to mix together indoors, after data showed a sharp rise in cases in London and southeast England. The capital was placed in the strictest tier of restrictions on Wednesday, with pubs, bars and restaurants forced to close.
The British Medical Association, the doctors' union, said allowing people to mix at Christmas is a "recipe for catastrophe." Keir Starmer, leader of the main opposition Labour Party, accused Johnson of "ignoring the medical advice."
The move to go ahead with a relaxation of rules at Christmas raises the prospect of tighter restrictions in January. Drakeford said Wales will go into full lockdown from Dec. 28, with non-essential shops, gyms and hairdressers forced to close from Christmas Eve.
In England, the government is conducting a review of regional restrictions which could see more areas placed under tighter rules from Saturday. Health Secretary Matt Hancock will announce the results of that review on Thursday, Johnson said.