Johnson Tells MPs His Handling of Sleaze Scandal Was a Car Crash
After two weeks of trying to dodge responsibility for the furor over his Conservative Party's ethics, Boris Johnson finally took it on the chin. 
In a private meeting on Wednesday evening, the prime minister told rank-and-file Tories that after their successful party conference in October he'd taken his eye off the road and effectively driven the car into a ditch, according to two members of Parliament present who asked not to be named.
"He got a very good reception," said Geoffrey Clifton-Brown, another Tory MP who was in the meeting.
Johnson had triggered the crisis with a misjudged attempt to save a disgraced ally, the former minister Owen Paterson, who was found to have broken lobbying rules. The backlash forced the prime minister to abandon his plan and Paterson to quit politics, unleashing weeks of negative headlines as the media trained its focus on the second jobs that many MPs use to supplement their regular salaries of about 80,000 pounds ($110,000).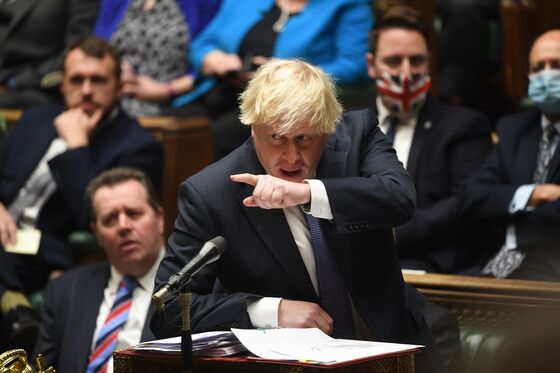 The premier had previously refused to apologize for actions that his predecessor Theresa May described as "ill-judged and just plain wrong." 
So he had to work hard to defuse the tensions in his party as he headed into the session with Tory MPs.
The banging of desks that greeted his arrival in the meeting may have been a display of solidarity for the benefit of the reporters listening outside. 
But the two MPs, who asked not to be named discussing a private meeting, said that the mood had been positive, albeit muted, suggesting the prime minister may, finally, be able to turn the page on another turbulent chapter of his premiership. 
Shortly after, the House of Commons voted to adopt Johnson's plan to tighten the rules on second jobs -- though opposition parties abstained after the Conservatives earlier rejected a proposal from Labour -- preventing MPs from acting as parliamentary strategists or consultants for companies.
Parliament's standards committee will now look at the issue and make recommendations by the end of January.
"This means that MPs will be banned from acting as paid political consultants or lobbyists and that MPs are always prioritizing their constituents," the government said in a statement.
Johnson's freewheeling political style means that his government will always be something of a high-wire act, and there are plenty of issues looming that could throw him off balance again.
In addition to the fallout over ethics, several MPs questioned Johnson about the number of small boats carrying migrants from continental Europe, the Covid-19 infection rate is stirring concerns of a brutal winter for the National Health Service and Johnson's face-off with the European Union over Northern Ireland is threatening to provoke a full-blown trade war with the U.K.'s biggest export market. 
Thursday brings another moment of potential peril, with the government set to present its long-awaited plans to revamp the rail network in northern England. The investment is a flagship policy for Johnson but the U.K. media has speculated he may be forced to cut back on those plans, potentially angering voters in the so-called red wall constituencies in Labour's traditional heartlands that helped deliver Johnson's majority in 2019. 
Still, the prime minister struck his characteristically bullish tone on Wednesday. 
"Were the voters of the north right to take the prime minister at his word?" Jake Berry, a Tory MP from a key northern region, asked Johnson in Parliament.
"Yes," Johnson replied. "And they should wait and see what will be unveiled tomorrow."