Boris Johnson Ambushed His Chancellor in a Quest for Control
(Bloomberg) -- Sajid Javid never saw it coming. Britain's finance minister began his day expecting to be confirmed in his position as a mere formality, in Boris Johnson's reshuffle of his cabinet team.
But as he sauntered, smiling, up Downing Street and through the famous black door of Number 10 at 10:30 a.m., Javid was walking into the fight of his life. An hour later, after a catastrophic face-to-face row with Johnson, he resigned.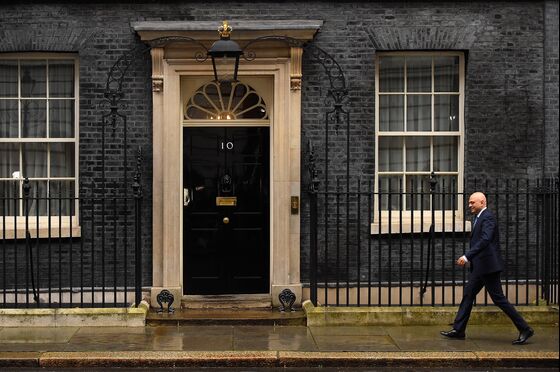 Javid's dramatic exit blew Johnson's plans for an orderly reshuffle wildly off course. By the end of the day, the government's entire economic policy was in disarray, with officials unable to confirm that the set piece budget announcement will go ahead as planned on March 11.
The crisis unfolded at a highly sensitive time, just two weeks after the U.K. left the European Union and set out on its uncertain path as a stand-alone country in the world. Based on conversations with senior officials familiar with the matter, this article charts Johnson's worst day in office since winning December's election.
British citizens and businesses had been banking on a period of stability after years of turmoil since the 2016 Brexit referendum, during which two prime ministers quit and countless political crises engulfed the country. When Johnson won a large majority on Dec. 12, it seemed that the drama would be over.
Instead, he has set out to use his new-found strength to impose an iron grip over all aspects of government, from policy, to ministerial travel expenses, and even the role the U.K.'s independent media plays in political debate.
That desire to control everything done in the name of his government finally led to the showdown between Johnson, a former journalist, and Javid, an ex-banker, in a room deep inside the prime minister's formal residence.
For weeks, Johnson's team had grown increasingly frustrated with critical briefings given to the media by "Treasury sources" purporting to be close to the chancellor. Javid clashed with one man in particular: Johnson's controversial chief adviser, Dominic Cummings.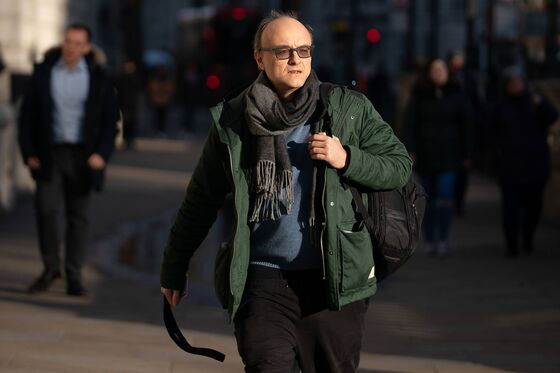 Not since Steve Bannon entered the White House has a political aide gained such a feared and toxic reputation for terrorizing members of his own team as Cummings. Several newspaper reports suggested Cummings wanted to fire Javid, after a series of clashes.
When he was asked on Wednesday for his views on the strengths of cabinet ministers, Cummings himself told reporters that the children's television characters "PJ Masks will do a greater job than all of them put together." And there was a history of bad blood with Javid, who last year confronted Johnson and Cummings after the premier's aide fired Sonia Khan, his media adviser.
By Thursday morning, Johnson's patience had run out. He told Javid, 50, he wanted him to stay on, insisting he was easily the best man for chancellor. Yet there was one key condition.
Javid's Treasury aides and Johnson's own Downing Street economic advisers must be merged together into one joint team, reporting ultimately to the prime minister. That would require Javid to fire all five of his own special advisers. And this was the price for keeping his job.
When Johnson confronted Javid with this ultimatum, he did not expect the chancellor to resist. But Javid proved more stubborn than Johnson's team had foreseen. The meeting lasted an hour. By 11:49 a.m. news that he had resigned began to leak.
"I don't believe any self-respecting minister would accept such conditions and so therefore I felt the best thing to do was to go," Javid later told the BBC. "The conditions that were attached were a requirement to replace all my political advisers, these are people who had worked incredibly hard on behalf of not just the government but the whole country."
After leaving Downing Street, Javid met with his aides, all of whom were also now automatically out of work. Back in his family home with his five advisers, Javid ordered a delivery of burgers from Five Guys.
Javid and Johnson had never been the closest friends. During the Conservative Party leadership contest last year, Javid ran against Johnson, openly slighting the man who went on to win, and dismissing him as "yesterday's news." If the last cabinet reshuffle taught us anything about Johnson, it's that he can hold a grudge and can be ruthless in dispatching rivals.
Despite the feuding, there is one thing rivals on both sides agree on. The disastrous row between Johnson and Javid was not fundamentally about policy, but about power. Javid's allies say he would have had no real influence over his team, if he had signed up to Johnson's terms.
For Johnson's aides, the risk of Javid's perceived disloyalty was too great.
The prime minister could not afford to endanger the delivery of economic reforms as the U.K. exits the EU's single market, or his program to raise living standards and opportunities in "left behind" parts of the country, they said.
It was Cummings during the in 2016 Brexit referendum who coined the devastatingly effective slogan "take back control," ultimately helping Johnson's Vote Leave campaign to win. Four years later, their shared desire for absolute power cost Johnson his chancellor. With Javid now free to speak his mind outside the cabinet, the final price could be far higher.
"It is crucial for the effectiveness of government that you have people around you who can give you clear and candid advice, as I have always sought to do," Javid said pointedly in his resignation letter. "I also believe that it is important as leaders to have trusted teams that reflect the character and integrity that you would wish to be associated with."