Border Patrol Chief Asks Congress for New Laws for Migrant Kids
(Bloomberg) -- The head of U.S. Border Patrol told lawmakers that supplemental funding is a temporary solution for the crisis at the southern border, which will only be solved when Congress passes legislation to address how children and families are detained and processed.
"To make a lasting impact Congress must make the changes to the legal framework that we have outlined time and time again," said Carla Provost, the Border Patrol chief. "A Band-Aid is simply not enough."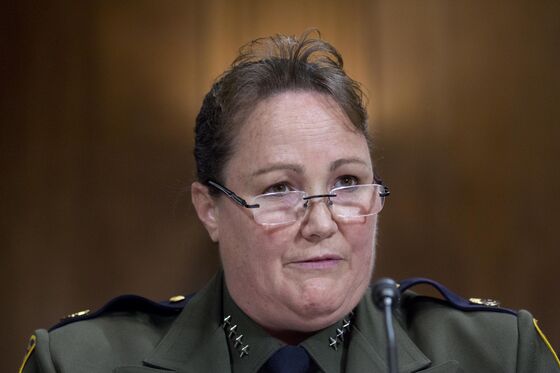 At Wednesday's hearing, Provost told the House Appropriations Committee that by the time Customs and Border Patrol could access the $4.6 billion in supplemental funding approved by Congress last month, the agency had been dealing with an influx of migrants for eight months.
She said that while the additional money has helped, Congress has to change the legal agreement, known as the Flores Settlement, that sets conditions for how migrant children are to be handled while in custody,
Part of that court settlement says migrant children can't be held in CBP custody for more than 20 days. Provost said smugglers are convincing more families to cross the border with children because the CBP can't hold a child for more than 20 days, and they cannot separate a family unit.
"We need to be able to hold families together, not in a border patrol facility let me be very clear, in a family residential center throughout an expedited immigration process if we are truly going to address this issue," Provost said.
Republicans on the committee supported Provost's demand for a change to the Flores settlement while Democrats questioned the treatment of children in custody and the continued separation of migrant families since President Donald Trump's "Zero Tolerance" policy that ended more than a year ago.
Provost said children are separated from the relatives they're traveling with if those family members are neither a parent nor a legal guardian.
"We do have many children that are either coming with other siblings, some are coming with other siblings that are minors, aunts, uncles," Provost said. "By law, I cannot keep those individuals together."
Members of the committee also questioned Provost's membership in a Border Patrol Facebook group where agents mocked migrants and made crude comments about members of Congress.
Provost said she did not realize she was a member of the group, as she was added to several groups when she first became the chief. She said she never saw the comments from the Facebook group until they were exposed by ProPublica but, she does not support the comments and she does support the continuing investigation into the members involved.