Border Closures Could Decide Australia's Next State Election
(Bloomberg) -- Saturday's election in Australia's third-most populous state looms as a referendum on the incumbent center-left Labor government's handling of the pandemic, with polls showing widespread voter support for its decision to close borders to keep coronavirus cases under control.
Premier Annastacia Palaszczuk is seeking a third term for Labor in Queensland, a diverse sub-tropical state in the nation's northeast that's home to the iconic Great Barrier Reef tourist attraction, remote swathes of the Outback and a $17 billion-a-year coal industry.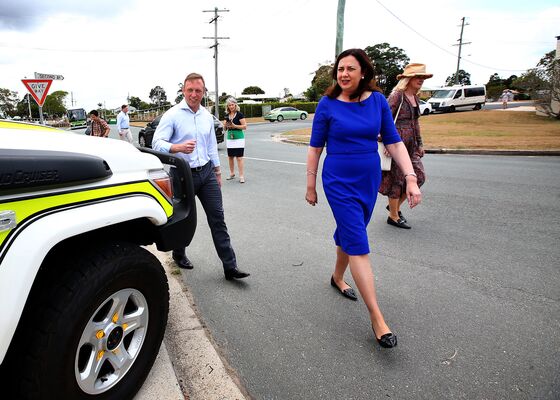 After claiming a narrow two-seat win in the 2017 election, Palaszczuk is seeking to maintain a majority but may need the support of populist-leaning minor-party lawmakers to form government, or even lose power.
Her opponent is from the center-right Liberal Nationals, led since December 2017 by another former lawyer, Deb Frecklington. That party governs at the federal level under Prime Minister Scott Morrison, who has been a frequent critic of Palaszczuk's decision to maintain stringent border restrictions on interstate arrivals since March.
Morrison has claimed that Palaszczuk's decision to keep borders closed to states with relatively low community transmission levels, such as neighboring New South Wales, has impeded Australia's ability to emerge from a recession triggered by coronavirus lockdowns, and has caused unnecessary angst to separated families.
"I will not be bullied nor will I be intimidated by the prime minister of this country," Palaszczuk, 51, said in September. She says the border closures have been justified by Queensland's record of keeping total cases in the population of about 5 million people to less than 1,200 -- just 4% of the national tally.
While opinion polls suggest Labor could be tracking toward a narrow victory, political analyst Paul Williams said the unusual nature of the election campaign -- with economic management for once not the main issue -- made it hard to predict the outcome. A Newspoll published in the Australian newspaper Oct. 16 gave Labor a 4-point lead over its main opponent.
Another complication in forecasting a winner is the disparate nature of Queensland, the so-called Sunshine State that's more than twice the size of Texas and which counts mining, tourism and agriculture among its biggest industries.
"A clear majority of voters are happy with the government's response to the pandemic and no one should be surprised if they reward it with another term," said Williams from Brisbane's Griffith University. "Queenslanders generally love to have a strong, assertive leader and Palaszczuk has played that role well this year in the face of some pretty heated criticism."
Palaszczuk said Friday Queensland will re-open its border to regional visitors from New South Wales, the most-populous state, from Nov. 3. The announcement was closely watched by tourism operators and small businesses, who are seeking more interstate visitors as the summer vacation season looms.
Still, visitors from Sydney -- New South Wales' largest city -- and from Victoria state won't be able to cross the border for now due to Palaszczuk's concerns about the threat from community transmissions in those areas.
The decision has been described by Qantas Chief Executive Alan Joyce as "ridiculous", given that Sydney is Australia's biggest city and it's managing the virus better than most places around the world, AAP reported. New South Wales Premier Gladys Berejiklian said the move lacked logic and common sense.
Beyond handling of the pandemic, economic management will still play a role in the election. Both major parties are promising to ramp up large-scale road infrastructure projects as a way of combating an unemployment rate that's climbed to 7.7%, compared to a national average of 6.9%.
The Liberal National Party had "a positive plan to actually grow our economy and create jobs," Frecklington, 49, said during a televised debate with Palaszczuk on Wednesday. "We're looking at visionary nation-building projects, we're talking about getting Queenslanders back to work."
The state's 1,300 polling booths open 8 a.m. local time on Saturday and close at 6 p.m., with vote counting to begin immediately. Should no clear winner emerge to claim a majority in the 93-seat parliament during the evening, it may take days before one of the major parties can form government, perhaps with support of minor-party lawmakers.