Booze Ban Shows Myanmar Economy Largely Off Limits to Foreigners
(Bloomberg) -- In a small and musty liquor store in downtown Yangon, a stock boy reaches behind rows of cheap Myanmar-made whisky and grabs a bottle of Jack Daniels.
"If we know who you are then we will sell it to you," said Aung, the 63-year-old shop owner, who only gave his first name due to fears he'd be shut down.
After years of tussling with shop owners, the government last month imposed a ban on selling imported liquor without a license, which remain restricted to a few high-end hotels and duty-free shops. The crackdown came as little surprise to Aung, who criticized the country's powerful military for protecting its own profits at his expense.
"The old government takes the money, the police take the money, the customs take the money,'' Aung said. "Only we lose."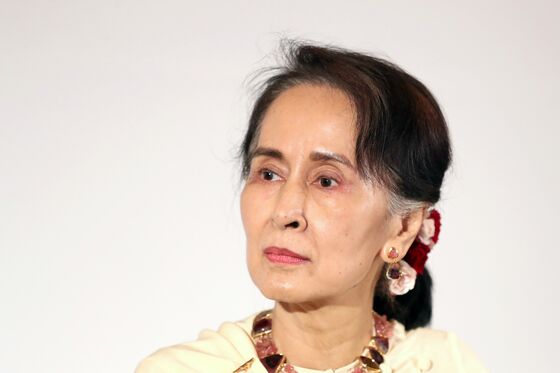 Myanmar's opening in 2010 after almost five decades of overt military rule brought a rush of excitement from foreign investors eager for opportunities in a country largely off limits due to international sanctions and rules protecting local industry. Yet nine years later, the slow pace of change in sectors from banking to aviation to insurance is even attracting criticism from allies of Aung San Suu Kyi, the former political prisoner who now runs the country.
"It's a big problem for us and we have to make changes," said Hanta Myint, chairman of the economic committee for Suu Kyi's ruling National League for Democracy party. "There are very powerful old cronies who control industries like the financial sector. They are always against changes and are very much afraid of foreign capital coming in -- they hate competition."
To its credit, Myanmar has passed several investor-friendly measures, including a telecom bill in 2013 that paved the way for international operators to build a network that has allowed almost everyone to access mobile services. A companies law that took effect this year gives investors the opportunity to buy a minority stake of local firms, while foreign banks were allowed to start offering loans to local businesses earlier this month.
But large parts of the country's $70 billion economy are restricted by outdated regulations and crippling red tape. While recent reforms have made it legal for foreigners to own 100 percent of businesses in several sectors, in many industries their status as a foreign company heavily restricts their ability to carry out business.
Suu Kyi hasn't followed through on promises to privatize Myanmar's 25 state enterprises, which dominate sectors from transportation to oil and gas. Myanmar ranks 185th out of 190 countries in terms of protecting minority shareholders, according to the World Bank's 2019 Doing Business report released last month. And despite seeing annual economic growth of more than 7 percent in the past five years, Myanmar still remains the worst place in Southeast Asia to do business, ranking 171st globally.
"There comes a time when local institutions should develop and follow a certain time frame, and if they cannot follow allow for international companies to gradually come in," said Aung Thura, chief executive of economic research firm Thura Swiss.
Myanmar's banking and insurance sectors are a case in point. Although the central bank issued 13 licenses to international banks in 2014, they remain unable to offer deposit and savings accounts for residents. Some 25 local banks dominate the sector and have opposed modernizing arcane rules in a nation of about 50 million people, the overwhelming majority of whom still don't have a bank account.
Foreign banks "had hoped that the reforms would come quickly, but they are taking a long time," said Kim Bun Socheat, managing director of the Myanmar branch of Cambodia-based ACLEDA Bank, which has aspirations to start commercial services one day. He said government officials told him that wouldn't happen "until the local banks are strong enough to compete."
Private insurers that received licenses in 2013 are still barred from offering most policies, while premiums are fixed by a government regulator. The few foreign companies with licenses in Myanmar are only allowed to run representative offices despite repeated promises that they would be allowed to begin offering services in 2015.
In May, a potential tie-up between Malaysia-based low-cost carrier AirAsia Group Bhd. and a local airline -- later revealed to be magnate Serge Pun's FMI Air -- was reportedly nixed because officials with Myanmar's Department of Civil Aviation said it would hurt an already struggling industry. Two months later, FMI Air suspended operations, one of five local carriers to go under in the past few years.
Mark Turner, who was chief consumer officer for FMI Air, told Bloomberg the regulators were most likely trying to protect the interests of state-owned national carrier Myanmar National Airlines, which had invested $960 million in 2014 to lease 10 new Boeing 737s. Efforts to reach Than Tun, chief executive officer of Myanmar National Airlines, were unsuccessful.
"The only interest of the government was to support the national carrier,'' Turner said. "They weren't going to let that slip between their fingers."
But perhaps no industry embodies economic protectionist policies more boldly than the food and beverage sector -- with the ban on imported liquor serving as one of the most egregious examples.
Shortly before the ban took effect, Aung Moe Kyaw, chairman of local whisky maker Grand Royal Group, raised concerns about competition from international brands in an August meeting with Suu Kyi, according to Myint Cho, director of consumer affairs at the Commerce Ministry. Still, Myint Cho said the meeting didn't influence the ban.
"It is difficult to explain," Myint Cho said. "It was the idea of the regional government. The negotiations are very wide in our country. This is related to tax revenue and to consumer safety."
Other officials at the commerce ministry contradicted each other regarding the liquor ban. Khin Maung Lwin, assistant secretary at the Commerce Ministry, said in a written reply to questions that the ban wasn't intended to protect domestic producers. But Aung Soe, another official at the ministry, said separately that the ban was to both protect local manufacturers and curb alcohol consumption.
"As a country, we have to restrict some export and import," he said, noting that the ban on foreign liquor has been in place since the junta was in charge and didn't include wine. "But, there are very few limitations. Even the locals criticize as we open much."
ThaiBev Expands in Myanmar With Stake in TPG-Backed Whisky Maker
Grand Royal was valued at about $1 billion when a subsidiary of Thai Beverage Pcl acquired 75 percent of the firm last year. Grand Royal declined several requests for comment, but referred to a local media report in which Aung Moe Kyaw denied vocalizing any opposition to foreign competition.
"We'd like to see more competition, the creating of consumer choice of the varieties of products. In the meantime […] the global players, they should understand and they should listen and follow the rules and laws of Myanmar," Aung Moe Kyaw was quoted as saying in an interview with Frontier Magazine on October 25.
An official from Thai Beverage didn't immediately respond to a request for comment.
For Aung and other liquor sellers, the only really difference between foreign and domestic alcohol is the amount they are able to sell. After the enforcement of the imported booze ban, sales at his shop fell 15 percent overnight.
"It is a big problem," Aung said. "We are losing so much money."