Booker to End White House Bid in 10 Days If Cash Pleas Fail 
(Bloomberg) -- Senator Cory Booker's fundraising isn't keeping pace with what's required and the New Jersey lawmaker will quit the Democratic presidential race unless he collects $1.7 million in the next 10 days, the campaign said.
"If we cannot raise the $1.7 million to scale up our operation, we don't believe we are going to be in position to compete for the nomination," Addisu Demissie, Booker's manager, said Saturday in a call with reporters.
The former Newark, New Jersey, mayor raised $12.3 million by June 30 and had $5.3 million cash on hand. He lags behind the fundraising of other leading candidates, including front-runner Joe Biden, Bernie Sanders, Elizabeth Warren, Kamala Harris, Pete Buttigieg, Amy Klobuchar and Beto O'Rourke.
In a fundraising appeal sent shortly after his campaign manager spoke, Booker also told potential donors this is a make-or-break moment.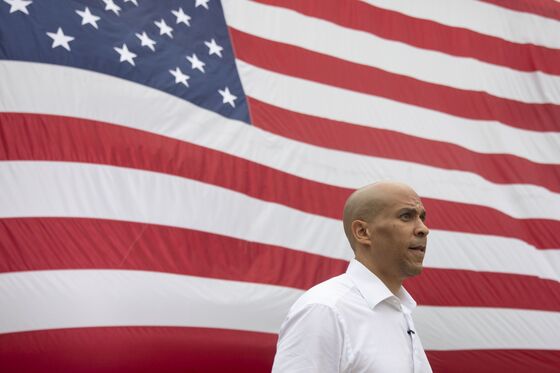 "The next ten days will determine whether I have a path in this race," he said in the solicitation. "To be completely transparent with you, team, I'm only going to continue running if I see a clear path to victory."
Demissie said the campaign wants to emphasize a need for resources as the third quarter ends because Booker must build his grassroots efforts in early primary states to stay viable. In a memo to supporters, Demissie said fundraising in recent weeks has slowed after an uptick in August.
In the call, he said the campaign is at an "inflection point" as state ballot deadlines approach and Booker needs to meet targets to qualify for the Democratic National Committee's December presidential debate.
Booker has remained at 2% or 3% in recent polls of Democrats likely to vote in next year's primaries, well behind the emerging top tier of Biden, Warren and Sanders.
Booker, 50, is New Jersey's first black senator and has worked to draw comparisons with former President Barack Obama. He has made criminal justice reform a key part of his presidential platform. But he's been challenged by other candidates who are more strongly embraced on the left, particularly Warren and Sanders. Harris, who also is black, has made stronger inroads with African American voters.
Booker is in Iowa this weekend for campaign events, including a steak fry in Polk County.