Joe Sestak Ends Low Visibility Presidential Bid: Campaign Update
(Bloomberg) -- Former two-term Representative Joe Sestak of Pennsylvania on Sunday said he was ending a campaign for the 2020 Democratic presidential nomination that failed to gain traction with voters since its kick-off in June.
Sestak, 67, a former three-star Navy admiral, didn't qualify for any of the candidate debates -- even at the start of the process, when the events were held over two nights to accommodate 20 hopefuls. He announced the decision to end the "Accountability to America" campaign on Twitter and in an emailed statement.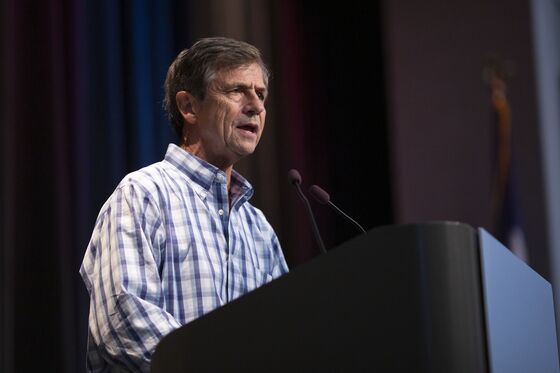 "I want to thank you for the honor of running for President of the United States of America," Sestak said in the statement. "It has been an endeavor filled with immeasurable wisdom, passions, humor and insights to, and from, the people of America."
Sestak implied that a lack of media coverage had doomed his bid. "Without the privilege of national press, it is unfair to ask others to husband their resolve and to sacrifice resources any longer," he said.
The RealClearPolitics website showed Sestak had average support of 0.3% in national polls for the Democratic nomination.
Cuban Says Trump Re-Election Is No 'Slam Dunk' (13:34 p.m.)
Mark Cuban, billionaire owner of the Dallas Mavericks NBA team, is betting on Joe Biden to win the 2020 Democratic nomination and says President Donald Trump's re-election is no "slam-dunk."
Cuban offered his views in an interview on Fox News Channel's "Sunday Morning Futures." He said Senator Elizabeth Warren is playing to her progressive base, something that could limit her appeal.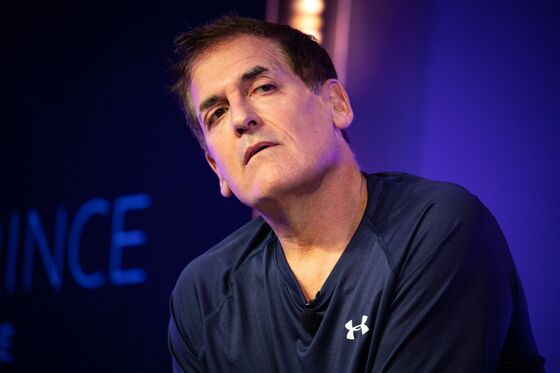 "They will not turn on her because she is picking on billionaires," Cuban said of Warren, adding that, "It is smart from one perspective, but I don't think it plays with America."
"I bet on Joe Biden," Cuban said. "He would do the best job."
Cuban said that three months ago, he was almost certain Trump would win re-election. Now, "I don't think it's a slam-dunk," he said.
Part of the panel of investors on ABC's long-running "Shark Tank," Cuban at one point considered running for president himself. "My family voted it down," he said. "If they would have voted yes, I would have done it." -- Hailey Waller
Booker Downplays Biden's Edge With Black Voters (11:47 a.m.)
Senator Cory Booker says he needs help to stay in the mix in the Democratic presidential contest, while casting doubt on the depth of support among black voters for former Vice President Joe Biden that's consistently seen in opinion polls.
Booker, speaking on CBS's "Face the Nation" on Sunday, said he needs to buy advertising as part of a bid to convert favorability among voters to actual support at the polls as the first nominating contests loom in early 2020.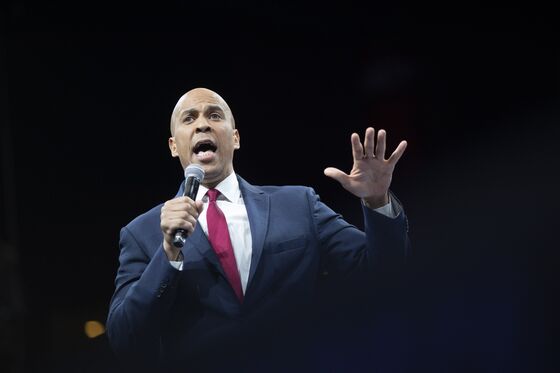 "I need help," Booker said, adding he needs people to "contribute so that we can do what I see a lot of the billionaires in the race now doing, which is just running non-stop ads to boost their poll numbers."
Michael Bloomberg, who announced Nov. 24 he was joining the Democratic presidential race, has booked $52.5 million for two weeks of broadcast and cable advertising through Dec. 9, according to Advertising Analytics, which tracks political commercials. A Bloomberg ad ran during some broadcasts of "Face the Nation." Bloomberg is the founder and majority owner of Bloomberg LP, the parent company of Bloomberg News. Billionaire Tom Steyer also is running in the race.
Booker was asked about Biden's bedrock support among black voters, where he has a wide lead against any other Democratic candidate. He downplayed that. "He's got the loyalty in voting right now because he's got 100% name recognition and is a former vice president," he said. "This race -- most people have not made up their mind." -- Josh Wingrove
Biden is on an eight-day, 18-county bus tour of Iowa through Dec. 7. Elizabeth Warren is also campaigning in Iowa on Sunday.