Bolton Tells Russians Election Interference Was Ineffective
(Bloomberg) -- White House National Security Adviser John Bolton told his Russian counterpart that his country's interference in the 2016 presidential election didn't affect the outcome but has nonetheless damaged relations with the U.S.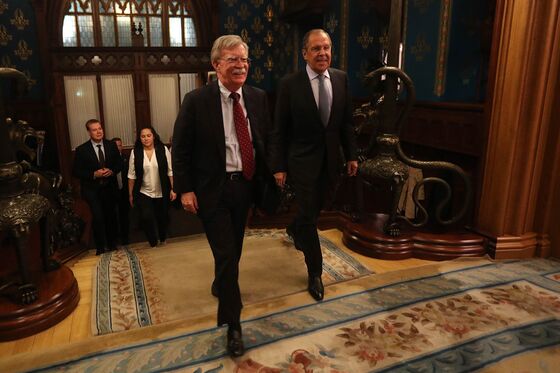 "The point I made to Russian colleagues today was that I didn't think, whatever they had done in terms of meddling in the 2016 election, that they had any effect on it," Bolton told Echo Moskvy, according to a transcript provided by the U.S. embassy. "But what they have had an effect in the United States is to sow enormous distrust of Russia, and it's a major obstacle to achieving agreement on issues where our national interest may converge."
Bolton's assertion that the Russian interference was ineffective was in line with his boss, President Donald Trump, who has grudgingly accepted the U.S. intelligence community's conclusion the Kremlin meddled in the election but insists the activity didn't help him win.
Bolton also said in a separate interview to Kommersant newspaper that Trump was "very strong, very clear" about U.S. intentions to withdraw from the Intermediate-Range Nuclear Forces Treaty with Russia, and it's consulting on the issue with allies in Europe and Asia.
There's "zero chance" of Russia dismantling equipment that violates the INF treaty, and of China agreeing to do the same with its missiles, in order for the U.S. to reconsider its decision, Bolton told Kommersant, according to a U.S. embassy transcript. Since Russia denies breaking the terms of the agreement, "you can't bring somebody into compliance who doesn't think they're in breach," he said.
Trump declared he plans to pull out of the accord Saturday at a campaign rally in Elko, Nevada. Bolton told Ekho Moskvy that Iran, China and North Korea aren't parties to the treaty, leading to a "very unusual circumstance where the United States and Russia are in a bilateral treaty, whereas other countries in the world are not bound by it."
Bolton said he also discussed with his counterpart, Nikolai Patrushev, the possibilities for another full-scale summit "like Helsinki" between Trump and Russian President Vladimir Putin. Trump and Putin met in Helsinki in July for their first bilateral summit, and are due to visit Paris for centenary commemorations of the end of World War I next month as well as the Group of 20 summit in Buenos Aires.
Bolton said he and Patrushev discussed extension of a broader nuclear arms treaty called New START that limits the number of deployed missiles, bombers, and warheads the U.S. and Russian can maintain.
"We've discussed various possibilities around the new START treaty, what may happen, but the U.S. government as I say does not have a position that we're prepared to negotiate," Bolton said. "The treaty doesn't expire until early in 2021, so we have plenty of time."
Russia said Bolton and Patrushev met for five hours on Monday, and the U.S. official also held talks with Russian Foreign Minister Sergei Lavrov. Bolton is holding talks with Russian Defense Minister Sergei Shoigu on Tuesday and is due to meet with Putin later the same day.
U.S. intelligence agencies have found that Russia in 2016 launched an effort to hurt Democratic candidate Hillary Clinton and ultimately to help Trump win. Special counsel Robert Mueller in July announced indictments of 12 Russian officials in the GRU military intelligence agency for allegedly orchestrating the hacks of Democratic party organizations and Democratic officials. Trump has called Mueller's probe a "witch hunt."
Members of Congress from both parties have pressed the administration to impose tougher sanctions on Russia to punish it for election meddling.
The U.S. last week charged a Russian woman with conspiring to interfere with the current 2018 midterm congressional elections along with the 2016 election. U.S. law enforcement and intelligence agencies have warned of ongoing efforts by Russia, along with other foreign governments, to interfere in the 2018 midterm and 2020 presidential elections.