Brazil's Bolsonaro Would Need Millions More Votes to Avoid Runoff
(Bloomberg) -- Brazil presidential front-runner Jair Bolsonaro says he can win the election in this Sunday's first round. The numbers indicate otherwise.
Bolsonaro has 32.6 percent of valid votes in the most recent Datafolha poll, and would need to capture more than 17.4 percentage points support from other candidates to win an absolute majority and avoid a runoff. In nominal terms, that adds up to about 25.7 million of the 147.3 million voters in Brazil, or more than the roughly 20 million population of the greater New York City metropolitan area.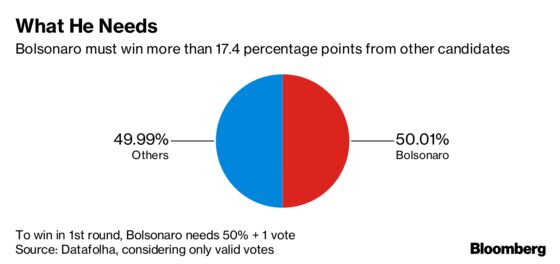 "We're going to win the election in the first round, and fight until the final second," Brazil presidential candidate Jair Bolsonaro declared in a video shown Sept. 30 to supporters in Sao Paulo.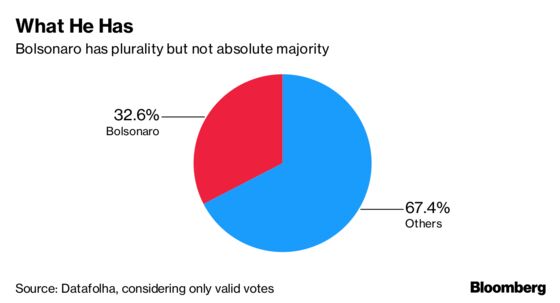 One Rio de Janeiro voter, Mario Picozzi, changed his first-round vote to Bolsonaro from Joao Amoedo, who has between 2 and 3 percent of vote intention. The 79-year-old retired pilot said in an interview his decision is aimed at preventing the Workers' Party from returning to power.