Bolsonaro Says Most Brazilians Don't Want Covid Vaccine
(Bloomberg) -- Without offering evidence, President Jair Bolsonaro said most Brazilians don't want to be vaccinated, even as the country nears 200,000 Covid-19 deaths.
"As far as I know, less than half would be willing to take the vaccine," the far-right leader told crowds outside his official residence Thursday. "This is from a poll I've taken. I've taken it in the street, the beach," he added.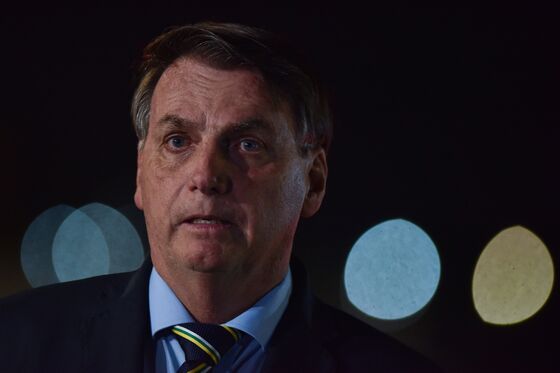 A December survey by Datafolha found 73% of Brazilians said they were willing to be vaccinated, down from 89% in August. Bolsonaro's comments were made hours after Brazil's health regulator, Anvisa, issued an emergency measure to fast-track approval and bidding of the injections.
After months of downplaying the virus, Bolsonaro in recent days has buttressed his skepticism by casting doubt on the efficacy of boosters and pushing unfounded claims of deadly side effects and unproven cures. That stance has hindered Brazil's ability to respond to one of the world's worst outbreaks, and the country has now fallen behind regional neighbors Mexico, Chile and Costa Rica in the race to inoculate.
Bolsonaro said his administration would not make the injections mandatory -- despite a Supreme Court decision allowing obligatory vaccinations -- and that Brazilians should take them at their own risk. "There are people dying and the lab says, "Look, you want it, it's at your disposal, but we can't assume any responsibility arising from the use," Bolsonaro said Thursday.
As of Wednesday, Brazil registered nearly 200,000 coronavirus deaths and over 7.8 million coronavirus cases, trailing only the U.S. and India.