Bolsonaro's Popularity at Lowest Point Amid Vaccine Scandal
(Bloomberg) -- Brazil President Jair Bolsonaro's popularity fell to the lowest level since assuming office after an ally said he turned a blind eye to an alleged kickback scheme in the purchase of coronavirus vaccines.
Bolsonaro is approved by 34% of the population, down from 44% in February, according to an MDA poll published on Monday by the National Transport Confederation. Meanwhile, rejection rates for the president and his government hit all-time highs of 63% and 48%, respectively.
Bolsonaro, whose popularity was already suffering amid a slow vaccination campaign and more than half a million deaths from Covid, came under additional pressure when Luis Miranda, a government-allied lawmaker, said he had personally warned the president about possible irregularities in the purchase of vaccines. A Supreme Court justice last week authorized an investigation into the case.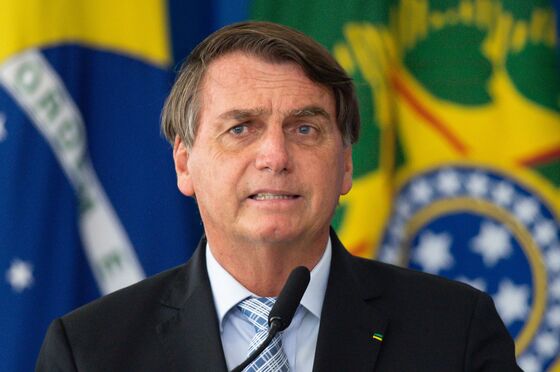 The president's approval rating had reached 52% last October, boosted by generous cash handouts to the poor amid the pandemic. The assistance was renewed this year with more modest payouts, and Bolsonaro is planning to launch a new and permanent version of the program later this year, expanding and possibly rebranding the long-running Bolsa Familia cash-transfer program ahead of next year's elections.
The allegations made by Miranda encouraged Bolsonaro's adversaries to file a so-called "super impeachment" request against the president, combining elements from more than 100 similar petitions that have been piling on the desk of lower house Speaker Arthur Lira, a government ally.
Such requests are unlikely to prosper while Lira supports Bolsonaro. Even leftist parties publicly backing impeachment proceedings wouldn't necessarily benefit from Bolsonaro's removal from office, since his presence in the ballot fuels political polarization that, this time, could benefit former President Luiz Inacio Lula da Silva.
According to the poll, 40% of those interviewed said they would prefer Lula to win next year's election, compared to 25% who want Bolsonaro as head of state for another term. About 30% would like to see someone who's not the former president nor the incumbent winning, but so far no candidate able to consolidate that support has emerged.
The MDA poll interviewed 2,002 people nationwide and has a margin of error of plus or minus 2.2 percentage points.