Bolsonaro Government Downplays the Possibility of More Covid Aid
(Bloomberg) -- President Jair Bolsonaro and his top economic chiefs warned against more fiscal stimulus this year although his economy minister acknowledged it could be necessary if a second wave of Covid-19 hits the poorest Brazilians hard.
"We are not going to let temporary crisis-related measures become permanent spending commitments," Bolsonaro said in opening remarks at a virtual investors summit hosted by Credit Suisse.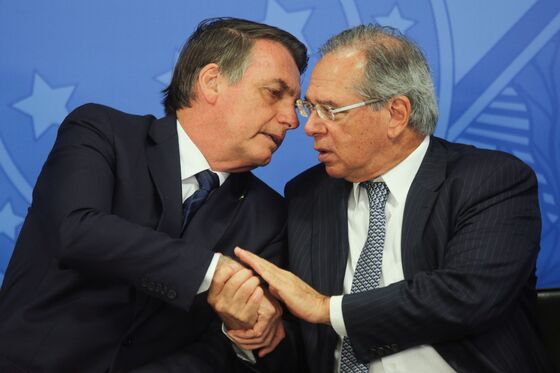 After a multi-billion dollar stimulus package last year, the Bolsonaro administration is trying to steer Latin America's biggest economy back on the road to fiscal sustainability. But surging Covid-19 cases, including a mutation of the coronavirus in the Brazilian Amazon, has led members of the president's economic team to privately acknowledge another cash injection may be inevitable.
Read More: Brazil Central Bank Discussed Rate Hike at Last Meeting
On Tuesday, Bolsonaro tried to ease fears that his government was at risk of breaking the nation's constitutionally-mandated spending limit, seen by investors as Brazil's main fiscal anchor. "We will stay firmly committed to the spending ceiling," he said.
Later at the same event, central bank president Roberto Campos Neto said that since Brazil has one of the biggest gross debt amounts among emerging markets, the country doesn't have the wiggle room in the budget to provide stimuli. He added that fiscal concerns are driving investors to bet on higher interest rates while contributing to a weaker currency.
"Fiscal stimulus is only possible with some compensation, either by doing reforms or cutting expenses," Campos Neto said at the event. "Congress needs to have this in mind if they are to discuss any sort of emergency benefit extension, or else we will have a scenario where the stimulus is offset by the asset repricing that would make conditions contractionary."
Speaking at the same event, Economy Minister Paulo Guedes said that additional cash handouts to informal workers would freeze all other public spending, but added that some form of assistance may be needed if rising cases of Covid-19 lead to more unemployment and economic pain.
"Mass vaccination is inspiring and we need to help it happen," Guedes said. "But if there is a second wave of the pandemic, with some 1,500 or 1,600 deaths a day, we'll know how to decisively act as we did last year."
Bolsonaro said that his administration would move forward with long-delayed privatizations this year, and forecast the Brazilian economy would grow by 3.5%.