Bolsonaro Picks Fights as Virus Slams Brazil
With more than 80,000 confirmed cases and 5,500 deaths, Brazil is fast rising through the ranks of a grim metric – countries most affected by Covid-19.
For its president, Jair Bolsonaro, "just a little flu" is no reason to prevent Brazilians resuming their daily lives, even as experts say insufficient testing is masking infection rates. Some states are already easing restrictions on shopping malls, gyms and churches.
Bolsonaro has an imperative to get the economy moving and distract from his multiple political crises.
He fired his health minister in a dispute over the Covid-19 response. His justice minister, the famous judge who oversaw the "Carwash" probes into corruption, quit over Bolsonaro's move to replace the national police chief. A court has now halted the president's bid to install a close ally as top cop.
There are ongoing tensions with his economy minister — whom markets trust — over how much Bolsonaro should rely on public spending to bolster growth.
The president is sparring with Congress over his reform agenda and with state leaders over his demands they avoid stringent virus restrictions.
He's staked his popularity on being an ordinary guy, outside the cushy establishment of Brasilia. He pledged to be tough on graft and kick-start the economy. Both promises are under threat.
Bolsonaro wants the economic wheels moving again to avoid further deterioration in his public support ahead of October mid-term elections. But with the virus on the loose, he could be playing with fire.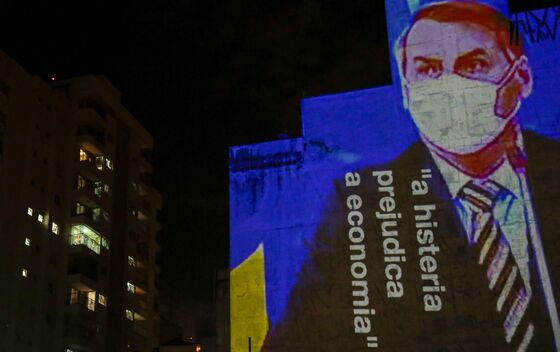 Who benefits? | A program created by Donald Trump's son-in-law Jared Kushner has airlifted millions of gloves, masks and other coveted coronavirus supplies into the U.S. from overseas. But it isn't clear who's getting them and at what price, or how much private-sector partners are earning. Josh Wingrove, Daniel Flatley and Shira Stein take a closer look at "Project Airbridge," which provides transportation for supplies that medical distributors buy from foreign manufacturers, mainly in China.
Back on | Presidential candidates saturated the airways with more than 9,000 hours of political ads this winter. But since most of the U.S. went into lockdown, neither Trump nor presumptive Democratic nominee Joe Biden have broadcast a single 30-second television spot. As Bill Allison and Mario Parker report, that's about to change, with Trump set to release a flood of ads touting his coronavirus response.
Trump will travel to Camp David today, his first time leaving the White House compound in more than a month.

Biden will address former aide Tara Reade's sexual-assault allegations for the first time today in an interview on MSNBC. His camp has denied the claims.
Brexit uncertainty | Crunch talks on the U.K.'s future relationship with the European Union will be crammed into the final few weeks of the year after the virus slashed vital negotiating time and Britain ruled out extending the deadline. As Ian Wishart reports, that will leave businesses and investors without certainty about what sort of trading relationship Britain will have from 2021 until the last moment.
Chilling warning | South Korea's exports declined in April by the most since the 2008 financial crisis, offering an early indication of the extent to which the pandemic is slamming global trade. Sam Kim explains how the numbers, one of the first full-month data sets on trade, paint a grim picture of commerce amid widespread lockdowns.
Mad dash | The race is on to be the first developer of a coronavirus vaccine, with global drugmakers and the White House seeking to compress into just months a process that normally takes several years. News of a successful vaccine could calm the virus's effects on the U.S. economy. Trump's goal is for hundreds of millions of doses to be produced by year's end. Whether it can happen remains unclear.

What to Watch
The pandemic is likely to last as long as two years and won't be controlled until about two-thirds of the world's population is immune, the Center for Infectious Disease Research and Policy warned.
The White House press secretary will take to the podium today to hold the first formal briefing for reporters in more than a year. Kayleigh McEnany took over the job last month.
The U.S. Supreme Court will hear its first-ever argument by phone Monday, opening a two-week remote session that includes disputes over subpoenas for Trump's financial records.
Pop quiz, readers (no cheating!). What leader is locked in a battle with his nation's states over the banning of alcohol sales during the coronavirus shutdown? Send us your answers and tell us how we're doing or what we're missing at balancepower@bloomberg.net.

And finally ... Plastics, once out of fashion, are making a comeback as consumers relegate environmental priorities while trying to stay clear of the virus. As Andrew Noël and Janice Kew explain, producers are seeing double-digit percentage sales increases in the food packaging and health-care industries, with the U.S. Department of Homeland Security declaring the making of some single-use materials "essential critical infrastructure." As Kevin McQuade, chief executive officer of Styrolution, says: "We didn't see this coming at all."