Brazil's President Bolsonaro may lose cabinet member amid pension debate
(Bloomberg) -- Brazilian President Jair Bolsonaro may suffer the first loss of a cabinet member and key political ally just as he prepares to send his flagship pension reform proposal to Congress, local media reported.
Bolsonaro will probably fire his Secretary-General Gustavo Bebianno, formerly the president of the ruling PSL party, following allegations the party misused campaign funds during last year's election, according to Folha de S.Paulo and O Globo newspapers. O Globo added that the president will make a final decision over the weekend.
Bebianno, speaking to journalists on Saturday, confirmed he's likely to be fired but refused to resign, putting the burden of his dismissal on Bolsonaro. A spokeswoman for the presidential palace said she didn't have information on the matter and couldn't confirm or deny the reports.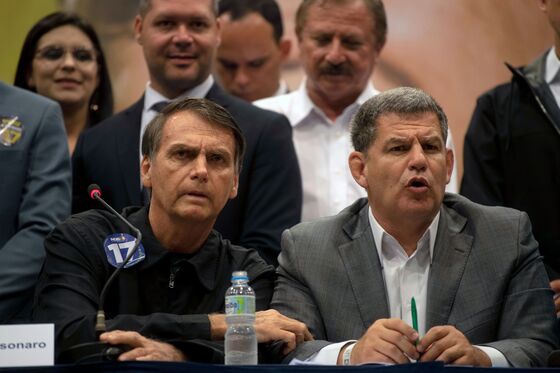 The crisis in Bolsonaro's inner circle, only 45 days into his government, comes at an inopportune moment when the administration pushes for a controversial pension overhaul that may determine Brazil's economic path. The bill will arrive at the lower house on Wednesday and the government will need all the votes it can get to approve it -- Bebianno's PSL currently rivals with the opposition PT as the largest party in the house.
"If the government is focused on approving the pension reform, it can't be positive to fire someone who is supported by congressional allies in such a controversial manner," XP Investimentos' political analysts wrote in a note to clients.
The accusations of improper handling of campaign funds, which Bebianno denies, have rocked Bolsonaro's inner circle over the past few days, with one of his sons publicly calling the minister a liar. Commenting on the crisis, Vice President Hamilton Mourao said the president's family should wash dirty laundry at home.
Bolsonaro and Bebianno had a tense meeting in Brasilia late on Friday, the newspapers reported. If confirmed, his resignation would be published in the official gazette on Monday, according to Folha.