Bolsonaro Election Effect Turns Brazil's Congress on Its Head
(Bloomberg) -- The forces that drove former Army captain Jair Bolsonaro to take an overwhelming lead in the first round of Brazil's presidential election also turned the country's Congress upside down. Bolsonaro's party, the PSL, jumped from eight seats to 52 in the lower house, while the Workers' Party of Fernando Haddad, the runner-up, lost five seats to 56.
At the same time, some of the most senior lawmakers -- several of them who had been investigated for corruption -- have been ousted. Senator Romero Juca, who has been in his post for over 23 years and served as government leader under four governments, lost his seat in the upper house.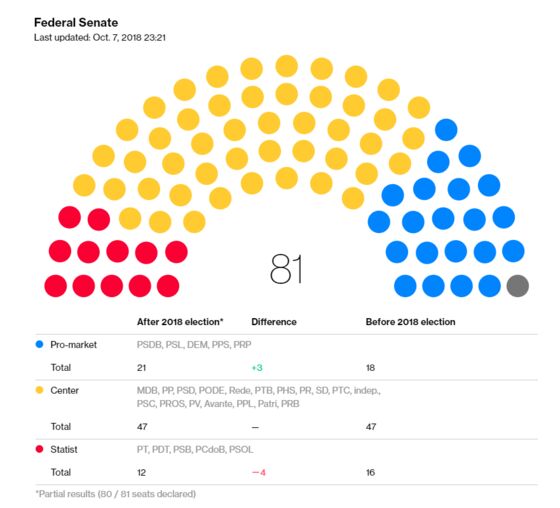 Traditionally, most of Brazil's centrist parties rally behind the president. As a result, Bolsonaro would have good chances to form a significant majority in Congress were he to win the runoff on Oct. 28.
"What comes out from this election is a Congress more favorable to pass Bolsonaro's reforms," said Juliano Griebeler, political analyst at Barral M Jorge, a business consultancy.
"That said, questions remain over his ability to govern and navigate the big parties because he lacks someone in his entourage with the experience."