Bolsonaro's Support Among Women Jumps Despite #NotHim Protests
(Bloomberg) -- Brazil presidential front-runner Jair Bolsonaro's support among female voters jumped just as thousands of demonstrators took to the streets to protest his views on women.
The right-wing lawmaker, who once said a congresswoman was "too ugly to merit raping" and has backed paying women less than men for doing the same job, saw his support from female voters surge six percentage points in an Ibope poll published Monday night. The survey was conducted on the same weekend as massive protests organized as part of the #NotHim pro-women movement.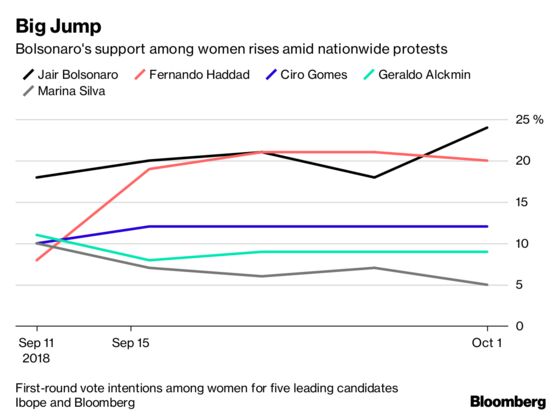 There are women whose concerns about the economy and crime outweigh all other factors, according to Lucas de Aragao, a partner at political consultancy Arko Advice. "That vote can go to Bolsonaro," he said.