Bolsonaro Slams Lockdowns Amid Rising Virus Death Toll
(Bloomberg) -- Brazil President Jair Bolsonaro criticized lockdown measures implemented by state governors even as the number of coronavirus cases and related deaths showed no signs of slowing down.
Bolsonaro said he will add more job categories to those deemed essential on Monday in efforts to get citizens back to work, clashing with state government plans to toughen restrictions on movement and commerce. "Since they don't want to open, we will," Bolsonaro said on Sunday.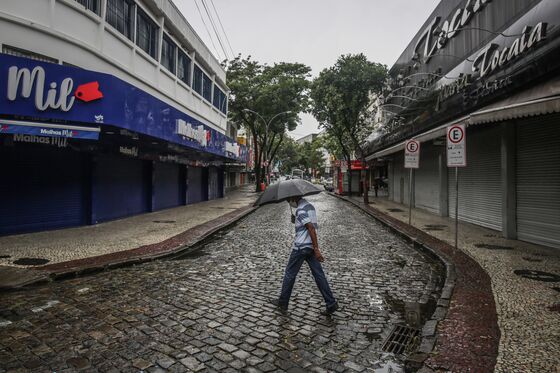 Referring to a lockdown imposed by the governor of the northern state of Maranhao, the president said the measures are forcing heads of household to "to stay gome and go hungry with their family."
"Millions already feel like they are living in Venezuela," he wrote onTwitter.
Bolsonaro has railed against virus containment efforts adopted by local authorities, saying they will inflict undue economic damage and spur unemployment. It's a risky strategy that may hit his popularity as the number of new virus cases and its death toll continues to climb in Brazil. Since the pandemic began, Bolsonaro has lost two ministers and is now facing criminal accusations and a ballooning political crisis.
The president's remarks come as some analysts warn the pandemic will lead to more economic pain than previously anticipated. JPMorgan now expects Latin America's largest economy to shrink 7% this year amid a worsening health crisis driven by a later and higher virus peak, according to a report dated May 8.
"The delay in the peak and the negative impact on sentiment due to fear of contamination will not only keep economic activity subdued for longer, but will also increase the chances of more long-lasting damage to the economy,'' JPMorgan economists wrote in the report. "In addition, we are concerned that a prolonged economic downturn could intensify political and social tensions."
Brazil's Health Ministry on Sunday reported 162,699 total cases of Covid-19 and 11,123 deaths, among the world's highest.
In recent days, local officials have toughened restrictions to help slow the virus. Large cities including Fortaleza and Belem have instituted strict lockdowns, while the city of Sao Paulo is clamping down on automobile circulation and Rio de Janeiro Governor Wilson Witzel said he will extend his state's quarantine.
Still, on Friday, Bolsonaro told reporters that he would attend a barbecue party at the presidential palace Saturday afternoon, adding that he expected thousands of people there. It was unclear how serious Bolsonaro was about his plans, and the barbecue was later canceled.
Instead, the president was seen on video in Brasilia on Saturday steering a jet ski around Paranoa Lake.
When questioned outside the presidential palace on Sunday by a person who shouted that democracy demanded his resignation or impeachment, the president responded, "I'll leave on January 1, 2027."