BOE Cuts Sterling Adrift
(Bloomberg Opinion) -- The pound and U.K. rate expectations were looking for love from the Bank of England on Tuesday, but they didn't get it. 
Governor Mark Carney and three other policy makers explained their flip-flop on interest rate guidance to U.K. lawmakers on Tuesday. Before they started speaking investors had hoped for something to give them a stronger reason to expect a rate increase in August. 
Policy maker Gertjan Vlieghe raised hopes by telling lawmakers he is looking for one or two rate hikes per year, confirming his move to the hawkish camp. That drove gains in the pound versus the dollar.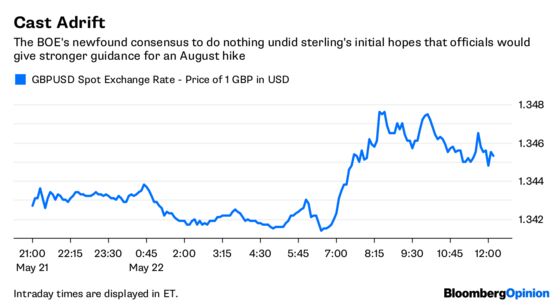 That was sort of canceled out by perennial hawk Michael Saunders shifting to a more-measured line on the need to tighten policy. His comments that Brexit will have a moderate negative impact on the economy mirrored those of Carney's, affirming the latter's tilt toward leaving rates where they are. 
The net result is that the members of the Monetary Policy Committee are moving closer together to the same view -- they can't raise rates just yet. The pound duly sank back to pretty much where it was before the testimony started, and has failed to build any gains. 
With Brexit less than a year away, the window is closing for the bank to hop onto its long-sought rate-hiking cycle. Future increases depend on a rebound from the disappointing first-quarter gross domestic product growth reading of just 0.1 percent, but it's hard to see how the MPC can find the economic data it needs to justify a move at its next quarterly forecasting round, on Aug. 2.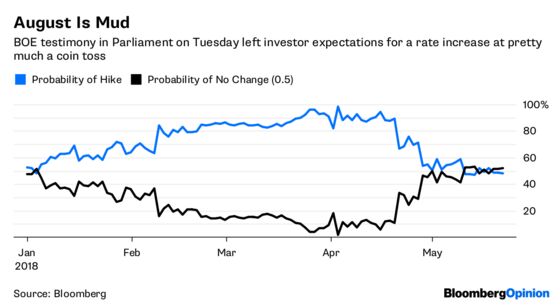 The outlook isn't great -- for a start, Carney pointed out that property taxes are becoming a bigger concern for high street retailers, and he wasn't all that enthusiastic about the consumption outlook. Consumer credit is getting more strained.
And while he said that officials need "a bit of time" to assess the economy after the disappointing first quarter, it's going to be harder this summer. The Office for National Statistics is undertaking a review of how its releases gross domestic product data, so changes to the publishing schedule mean the first estimate for the second quarter won't be published before the policy decision. 
This heightens the importance of purchasing manager's surveys. But also it means that one useful rationale for a rate increase in August -- a rebound in second-quarter GDP growth -- won't be available. However much officials privately and explicitly disparage the first-estimate of quarterly data, it's a convenient hook to hang a policy change on. 
This leaves sterling in limbo. Now it's even more prey to dollar strength and a drip feed of reports pointing to economic weakness, not to mention Brexit developments.