Blue Wave Hasn't Yet Materialized for Democrats in Early Returns
(Bloomberg) -- A blue wave has yet to materialize for Democrats who are hoping for a decisive majority in the U.S. House.
Democrats could still win the net gain of 23 seats they need to win the House. It just hasn't happened yet.
In early returns where polls have closed, most tossup districts in the House have yet to be called. One such race that has been called went to the GOP: Representative Andy Barr fended off a challenge from Democrat Amy McGrath.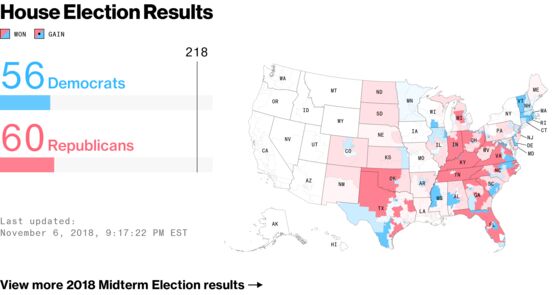 Republicans held several districts that were leaning their direction, including an open district targeted by Democrats that includes a swath of rural Virginia that was won by Denver Riggleman.
"It's very early signs that that tsunami some people had talked about, and Democrats had dreamed of, doesn't look to be occurring," Jeanne Zaino, a political science professor at Iona College, said on Bloomberg TV on Tuesday night. "The fact that it's looking tight in races in the House is, I think, a sign that potentially the president got out his base, and he got out voters."
Tossup races that haven't been called yet include several in Illinois, Kansas and Texas.