Bloomberg Seeks to Capitalize on Iowa Chaos With New Ad Blitz
(Bloomberg) -- Michael Bloomberg is doubling his already unprecedented television advertising budget and expanding his field staff in an effort to capitalize on the chaos in the Iowa caucus.
Bloomberg, who is skipping the first four contests in February, is immediately increasing spending on ads in markets where they're currently airing and starting ads in new ones after the Iowa Democratic Party delayed the results from Monday's caucuses, the campaign said. It said it also expects to increase its field staff soon to 2,100.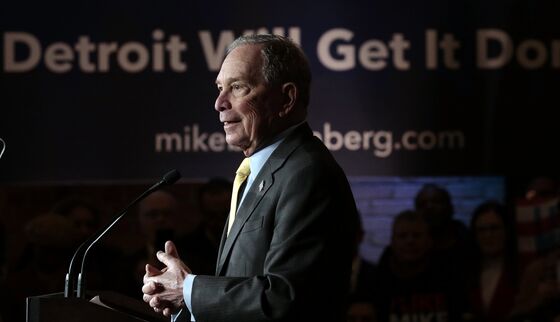 "After more than a year of this primary, the field is as unsettled as ever," campaign spokeswoman Julie Wood said in a statement. "No one has made the sale or even come close to it. Meanwhile, Mike is taking the fight to Trump every day, doubling down on the national campaign strategy we've been running from the beginning."
The New York Times first reported the move.
(Bloomberg is the founder and majority owner of Bloomberg LP, the parent company of Bloomberg News.)
Bloomberg has already spent $314 million on broadcast television, cable and digital advertising in states across the country, according to Advertising Analytics, which tracks political ads.
The campaign also announced it has expanded to 1,700 staff in 40 states and territories, plus 400 at its New York City headquarters. That includes 450 staff in the battleground states of Wisconsin, Pennsylvania, North Carolina, Arizona, Florida and Michigan, the campaign said. It previously had said it had more than 1,000 staffers in 35 states and at its headquarters.
Before the Iowa caucus count debacle, Bloomberg downplayed the importance of the results.
"Don't know, don't care," Bloomberg replied when asked in an interview Monday after a campaign event in Compton, California. "I just don't think you can read into these results."
Today, Bloomberg joked about the chaos.
"Yesterday, I hear something happened in Iowa – or didn't happen, I don't know which," Bloomberg said at an event in Detroit, Michigan, which votes on March 10. "Still can't figure that out."