Democrats Join GOP Pouring Scorn on Blinken Over Afghan Exit
(Bloomberg) -- The Biden administration came in for a second round of withering criticism in Congress on Tuesday over its handling of the withdrawal from Afghanistan, with Democrats joining Republicans in accusing officials of bungling the pullout and painting too glossy a picture of how it unfolded.
Robert Menendez, the Democratic chairman of the Senate Foreign Relations Committee, told Secretary of State Antony Blinken that the withdrawal was "clearly and fatally flawed," and scorched President Joe Biden and his team for failing to anticipate the Taliban's speedy takeover of Afghanistan. Tim Kaine, a Virginia Democrat, said a swift government collapse "was a possibility that had to be grappled with."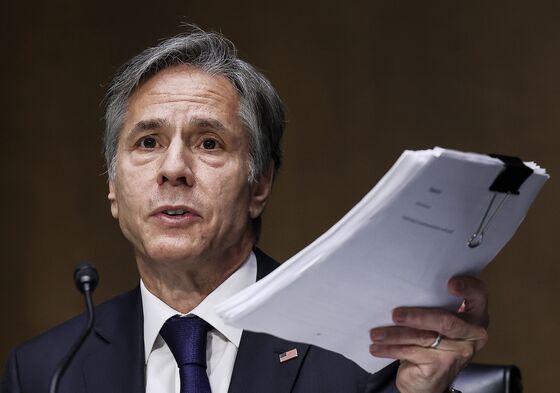 "Over the last 20 years at different times, Congress has been misled," Menendez, a New Jersey Democrat, told Blinken. "Assessments were definitely overly rosy to say the best. And if we're not to repeat the past we need to learn from it."
It was a bipartisan challenge, a day after Blinken testified before the House Foreign Affairs Committee, where Republicans attacked the administration while Democrats largely blamed former President Donald Trump for the deal his administration cut with the Taliban last year for the U.S. to withdraw.
Like their House counterparts, some Republicans demanded Blinken's resignation and questioned why he hadn't stepped down already. Senator John Barrasso, a Wyoming Republican, criticized the administration for hailing the withdrawal of some 124,000 people as a success, saying it had been marred by failure.
"This has to be the lie of the 21st century," Barrasso said of Biden's claim. "It's dishonest and if he believes it, it's delusional. America can no longer say we leave no American behind -- because Joe Biden did."
Repeatedly questioned about the failure to predict the rapid Taliban advance, Blinken said there was nothing the administration saw that "suggested that this government and security forces would collapse in a matter of days."
He also offered a broader reflection, telling Hawaii Democrat Brian Schatz that the U.S. had erred in trying to "remake the country and, in effect, to use military force to remake another society."
"Whatever our intentions, that is probably something that is beyond our capacity and the net of that is that we were there for 20 years," he said.
"We need to look back at all of this," Blinken said. "We did not see this collapse in a matter of 11 days, but it is important that we go back and look at all of this."
Although the Biden administration has said top military leaders supported the withdrawal from Afghanistan, senators who held a closed-door meeting with defense officials later Tuesday said that view wasn't unanimous.
"Truth is, clearly President Biden didn't listen to all military advice," Senator Jim Inhofe of Oklahoma, the top Republican on the Senate Armed Services Committee, told reporters after the briefing. 
According to Inhofe, General Austin Scott Miller, who was the top commander in Afghanistan, was against a complete withdrawal and told senators he'd said that to Defense Secretary Lloyd Austin, General Kenneth McKenzie, the head of Central Command, and General Mark Milley, chairman of the Joint Chiefs of Staff. Inhofe said McKenzie had authorized disclosure of his position.
Pressed before the Senate committee about American citizens left behind in the withdrawal, Blinken told lawmakers that the U.S. had given many warnings to Americans that they should leave Afghanistan and is still working to evacuate the 100 or so believed to remain there. As the United Nations and other groups warn of a humanitarian catastrophe in the country, the U.S. is also planning to provide $64 million in new humanitarian aid, he said. 
The hearing also fell into what has become a familiar pattern: Blinken was repeatedly asked to answer for decisions and missteps made by other agencies, such as the intelligence community and the Defense Department. Republican senators repeatedly brought up the Pentagon's recommendation -- approved by Biden -- to abandon Bagram air base as the military withdrew.
Rand Paul, a Kentucky Republican, excoriated Blinken for a drone strike in August that a New York Times investigation found may have killed a U.S.-employed aid worker and several children, not the terrorist the U.S. thought it was tracking. He reacted with disgust when Blinken said an investigation would determine whether the attack hit its intended target.
"You think you'd kind of know when you off somebody with a Predator drone," Paul said. "Guess what, maybe you've created hundreds or thousands of new potential terrorists."
Menendez said that Defense Secretary Lloyd Austin had declined to appear at the hearing and threatened to subpoena the Pentagon chief. In a subsequent statement, Pentagon spokesman John Kirby said other commitments made the appearance "impracticable." Austin will testify before both chambers' armed services committees by the end of the month, Kirby said.
Democratic Senator Jeanne Shaheen of New Hampshire criticized the efforts to assign blame, saying "the important thing for us to do now is to figure out how we can work together to address those people who still need to be evacuated from Afghanistan. There are a lot of people to blame, and we all share in it."