Blinken Defends Afghan Pullout as He Faces Angry Lawmakers
(Bloomberg) -- Secretary of State Antony Blinken defended President Joe Biden's handling of the Afghanistan withdrawal during a contentious hearing in which Republican lawmakers accused the administration of manipulating intelligence and demanded he resign.
Blinken said there was "no evidence" that staying any longer would have helped to make Afghan security forces more resilient. He said lessons should be learned, including that "using military force to try to remake a society is something that is beyond our means, beyond our capacity," while laying much of the blame with the Trump administration. 
"We inherited a deadline -- we did not inherit a plan," Blinken said of former President Donald Trump's deal with the Taliban, which committed the U.S. to withdraw forces by the end of May. Biden extended that timeline to late August.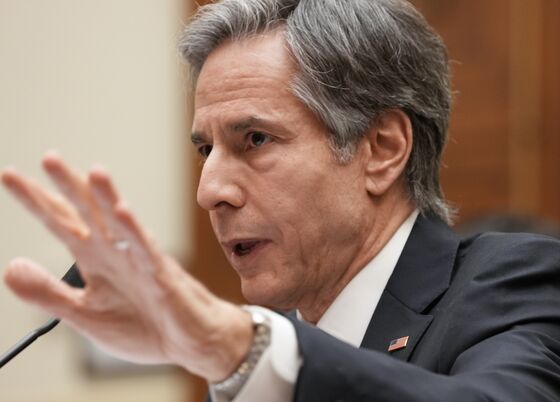 The hearing gave lawmakers their first chance to publicly question a senior administration official over the U.S. troop withdrawal and the evacuation of some 124,000 people, including Americans, Afghans and citizens of other countries that took place in recent weeks as the Taliban quickly advanced across Afghanistan.
From the start, lawmakers made clear the hearing would have a partisan bent, with Representative Gregory Meeks of New York, the committee's Democratic chairman, highlighting Trump's 2020 deal with the Taliban to withdraw troops and pressure the Afghan government to free 5,000 prisoners.
Republicans sought to keep the focus on the final chaotic weeks as U.S. forces evacuated, a suicide bomb at Kabul's airport killed 13 U.S. service members and Americans and others weren't able to leave before the final troops departed. 
A few sought an even-handed approach, with Republican Representative Adam Kinzinger of Illinois, a Trump critic, telling Blinken, "The Trump administration failed in the setup, and the Biden administration absolutely failed in the execution of this."
Others were more combative, including Representative Brian Mast, a Florida Republican who lost his legs when he stepped on an improvised explosive device while serving in Afghanistan in 2010 as a bomb-disposal expert. He accused the administration of manipulating intelligence, echoing other Republicans who said the Biden administration knew about but ignored warnings that Afghanistan's security forces would collapse quickly.
"I don't wish to hear your lies," Mast told Blinken. "He lies to us when he steps in front of the cameras. That is what he does."
Blinken countered that Mast's allegations were "simply wrong, period." He tried to preempt some of the criticism in his opening remarks, saying that "even the most pessimistic assessments did not predict that government forces in Kabul would collapse while U.S. forces remained." But Tennessee Republican Tim Burchett said of the 13 service members who were killed, "their blood is on your hands and this administration's, sir. I call on you to resign." 
Members from both parties have criticized the administration's actions and the failure to foresee the Afghanistan military's rapid collapse. 
Blinken told lawmakers the U.S. had given many warnings to Americans that they should leave Afghanistan and is still working to evacuate the 100 or so believed to remain there. He said the U.S. also wants to help all those Afghans to whom the U.S. "has a special commitment."
As the United Nations and other groups warn of a humanitarian catastrophe in the country, Blinken said the U.S. will provide $64 million in new humanitarian aid to Afghanistan that "will not flow through the government" but instead through nongovernmental organizations.
Blinken reiterated comments that the U.S. will hold Taliban leaders to their commitment not to let Afghanistan become a safe haven for terrorism and that the U.S. will "remain vigilant in monitoring threats." But lawmakers have criticized administration statements that the Taliban has kept its word on helping in some departures since the withdrawal, pointing out that the new government in Kabul includes designated terrorists. 
In a speech hours earlier, Director of National Intelligence Avril Haines said the top foreign terrorist threats to the U.S. homeland are no longer in Afghanistan, where the Taliban-led government hosted al-Qaeda leader Osama bin Laden in the years prior to the Sept. 11, 2001 attacks. 
Haines, speaking at a national security conference just outside Washington, said the bigger threats now are elsewhere. 
"We don't prioritize -- at the top of the list -- Afghanistan," Haines said. "What we're looking at is Yemen and Somalia, Syria and Iraq. That's where we see the greatest threat."