BlackRock Warns of More Emerging-Market Currency Sell-Offs
(Bloomberg) -- BlackRock Inc. is warning of more pain ahead for some emerging-market currencies, even after a big sell-off to start the year.
The world's largest asset manager downgraded its view on developing-nation local debt to neutral from overweight on Monday, cautioning that declines against the dollar put the notes at greater risk.
One issue is that some monetary authorities are allowing their currencies to weaken to absorb the shock from the coronavirus pandemic and make exports more competitive, the BlackRock Investment Institute's Mike Pyle, Scott Thiel, Ben Powell and Axel Christensen wrote in a note.
"Potential capital flight could exacerbate currency declines and force some EM central banks to reverse course and raise rates," they said. "We see a risk of further currency declines in selected EMs that could wipe out coupon income."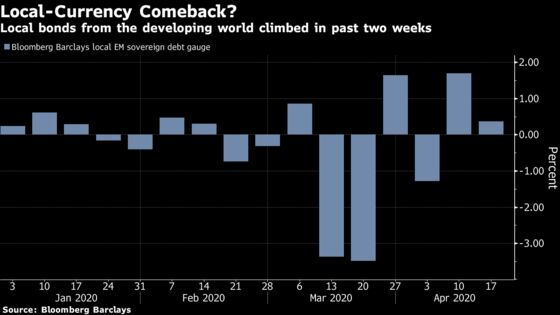 BlackRock's more cautious stance follows a rebound in developing-nation local debt. While 23 of 24 emerging-market currencies tracked by Bloomberg have declined this year, some local notes have recovered in the past two weeks.
The South African rand and Brazilian real have felt the most pain, leading losses among major global currencies this year. That's sticking to the pattern of past crises in which countries with the largest current-account deficits tend to take the biggest hits, according to BlackRock.
Still, the New York-based firm said it's not all negative for emerging markets. BlackRock remains overweight Asian equities and credit, excluding Japan, citing the prospect of an eventual growth growth.
"China is gradually restarting its economy after stringent lockdown measures and is set to deliver a large stimulus package," the strategists wrote. "A rebound in China's economic activity could bode well for EM exporters of bulk commodities in particular."