Mass Shootings Give Gun Bill Urging 'Red Flags' a Boost in Senate
(Bloomberg) -- The weekend massacres in Texas and Ohio renewed momentum Monday for action to address gun violence, with a deal announced on bipartisan "red flag" legislation and President Donald Trump calling senators to discuss a measure to expand background checks as well.
Trump ally and Senate Judiciary Chairman Lindsey Graham said Monday that he and Democratic Senator Richard Blumenthal, a gun-control advocate, have agreed to push through legislation to help states adopt so-called red flag laws intended to take firearms away from dangerous or mentally ill people.
Trump gave his support to the idea Monday as he addressed the massacres in El Paso, Texas, and Dayton, Ohio.
"We must make sure that those judged to pose a grave risk to public safety do not have access to firearms, and that, if they do, those firearms can be taken through rapid due process," Trump said in an address from the White House.
Red flag laws drew interest from the White House and Congress after the mass shooting at a high school in Parkland, Florida, last year but never got a vote. Nothing is likely to happen for a while this year, with Congress on recess until September and legislation still being written. The "red flag" legislation may be the easiest to pass in the Republican-controlled Senate, given backing from Trump and Graham.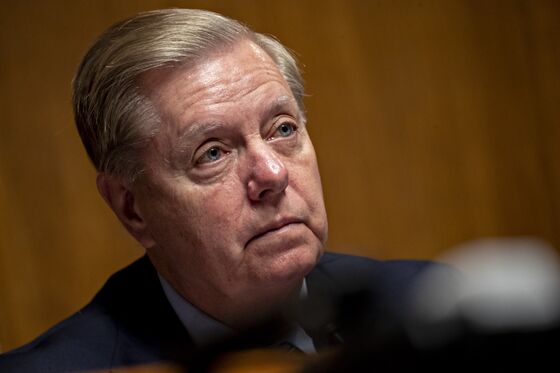 Graham said the bill would "create a federal grant program to assist and encourage states to adopt 'Red Flag' Protection Order laws to timely intervene in situations where there is an imminent threat of violence."
He said the grants would require "robust due process and judicial review" but also allow for quick action. Funding would also be available for local law enforcement to hire and consult mental health professionals on which cases to take up.
"I spoke with the president this morning about this proposal and he seems very supportive," Graham said. "Many of these shootings involved individuals who showed signs of violent behavior that are either ignored or not followed up."
More than a dozen states already have passed such laws, and Graham has backed passing federal legislation giving states incentives to implement them.
Trump called on Monday for bipartisan action in the wake of the shootings in Ohio and Texas that killed 31 people and wounded dozens of others, though nothing that would curtail the availability of firearms. Such calls in the past haven't resulted in major legislation.
Two weeks after the massacre in Parkland, Trump convened an extraordinary meeting of top Democrats and Republicans, and sounded like he would push through universal background checks and other measures.
He ended up backing away from universal checks in the face of NRA opposition. Instead Trump pushed for -- and Congress passed -- more limited measures: one to improve the information in the background check database and another to provide grants for school security. He touted those measures in his speech Monday morning as examples of bipartisan action.
Trump also called Republican Senator Pat Toomey of Pennsylvania, who's urging the president to support the background check legislation that he and Democrat Joe Manchin of West Virginia crafted in 2013. That bill, which would have eliminated loopholes for commercial firearms transactions, had 54 votes in the Senate but was successfully blocked by Kentucky Republican Senator Mitch McConnell, who's now the majority leader.
The senators said in a joint statement that they spoke with Trump Monday and that he "showed a willingness to work with us on the issue of strengthening background checks." The measure hasn't been reintroduced in this Congress. The only other Republican backer of the bill still serving in Congress is Susan Collins of Maine.
Toomey told reporters he spoke to McConnell in the morning and will do "everything I can to persuade Senator McConnell" to allow a vote on the Manchin-Toomey bill. "My view is if we have enough support in the Senate we ought to have a vote."
Toomey didn't back an immediate special session, however, saying if the vote were held tomorrow it would probably fail. He said supporters need time to build a coalition to get the votes to pass it, and hopes Trump will help.
"Let's try to grow support for this," he said.
The Democratic House has already passed gun legislation that would make it harder for people to elude background checks, but those bills haven't gone anywhere in the Senate despite repeated calls for action by Senate Minority Leader Chuck Schumer.
Speaker Nancy Pelosi and Schumer issued a joint statement Monday morning calling on the Senate to return to Washington to pass the House's background check legislation.
"Senate Republican Leader Mitch McConnell has called himself the 'grim reaper' and refuses to act on this bipartisan legislation," they said, adding that Trump's failure to talk about guns in his morning address to the nation "shows the president remains prisoner to the gun lobby and the NRA."
Democrats have also repeatedly proposed various other restrictions on guns, including bans on high-capacity magazines, bans on certain kinds of semi-automatic rifles like the AR-15 and restrictions on gun purchases by people on the terror-watch list.
Senate Democrat Dianne Feinstein blamed Republicans for not bringing gun legislation, including her assault weapons bill, to the floor.
"Banning assault weapons and high-capacity magazines, tightening background checks, closing loopholes and giving states the ability take guns away from dangerous people are all proposals supported by overwhelming numbers of Americans, but Republicans in the Senate refuse to take up these bills," the California Democrat said in a statement over the weekend.
In the House -- where Democrats do control the agenda -- assorted gun bills are languishing in committee as well, including one on assault weapons.
Toomey rejected the idea of banning particular weapons, saying the rifles Democrats want to prohibit are functionally the same as a semi-automatic hunting rifle. He said he was "very skeptical" that limiting the size of clips and magazines would have an impact, contending that it's easy to reload guns. He said his priority is to find ways to "keep guns out of the hands of people who should not have them in the first place."
A federal assault weapons ban passed in 1994 but expired in 2004.