Bill Gross's Departure Puts Spotlight on His Big Mexico Bond Bet
(Bloomberg) -- Months before retiring, Bill Gross loaded up on debt from his long-loved Mexico. Now, traders are anxious to see how his successor plays it.
The 74-year-old fund manager increased his position in a single Mexican bond, the inflation-linked 2025 Udibono, to 10 percent of the $950 million Janus Henderson Global Unconstrained Bond fund, in the fourth quarter, according to the latest filing data. Strategists say there's a risk his replacement, Nick Maroutsos, could unwind the position when he takes over later this month, although it's likely that Mexican insurance funds would be buyers.
"I wouldn't be surprised if Janus dumps some of their Udibonds, but locals will soak that up," said Kathryn Rooney Vera, the head of research at Bulltick in Miami, who sees more value in other local debt and bonds from state oil giant Pemex. Still, "the market is so one-sided on Mexico that I wouldn't call for dramatic upside in the near term."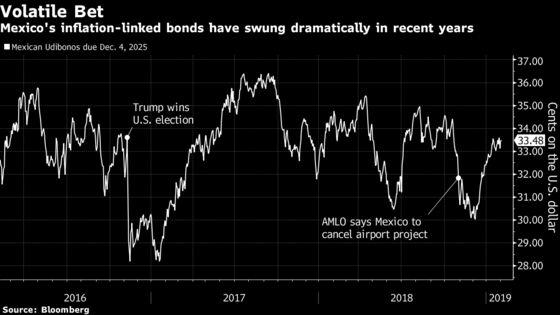 Erin Passan, a spokeswoman for Janus, didn't respond to a request for comment. Its fund will be renamed the Absolute Return Income Opportunities on Feb. 15, the firm said in a statement.
Trading on Mexican Udibonos has been choppy in recent years, although they outperformed similar-dated local notes in 2018. The debt maturing in 2025 returned 4.7 percent in dollar terms last year versus 1.9 percent for the 2027 Mbonos. That doesn't account for the fact that the Udibonos' return is already in real terms, as it's inflation-protected. This year, however, they've underperformed once again amid expectations that inflation will slow.
Gross started talking up Mexican bonds in June 2012, citing attractive valuations compared with their German counterparts. Three years later, he said the country offered the "most attractive yields in the world." Since then, he's piled in and out of Mexican assets, recommending investors buy the dip in the inflation-linked notes in the days after Donald Trump's election in November 2016 and trimming his exposure before last year's selloff in risk assets.