Big Money Makes a Big Comeback in Race for Democratic Nomination
(Bloomberg) -- Joe Biden, Bernie Sanders and Elizabeth Warren and Pete Buttigieg have all touted the depth and breadth of their grassroots support and modest size of their average donation, but contributors writing big checks dominated fourth-quarter financial reports.
The shift comes as the Democratic National Committee on Friday adopted new rules for earning a spot in its debates, dropping a requirement that candidates develop a broad donor base. Now, candidates need only to reach 10% in four approved polls.
That could allow low-polling candidates who self-finance their campaigns more exposure on the debate stage. Michael Bloomberg has risen to fourth in the RealClearPolitics average of national polls, but is still in single digits at 8%, while Tom Steyer tallies 1.8%. But campaign finance experts aren't ruling out either candidate.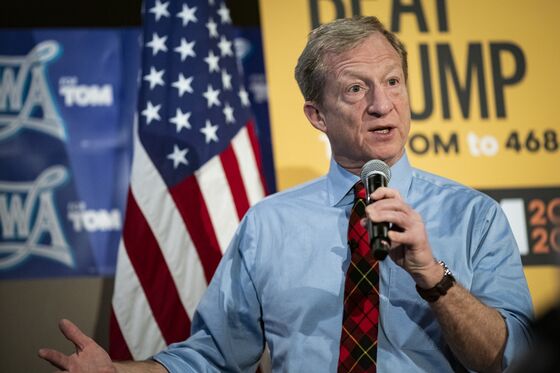 "We are in uncharted territory," Sheila Krumholz, executive director of the Center for Responsive Politics, said of the fourth quarter spending. She says that while self-funded candidates don't have a great track record historically, most haven't dwarfed their rivals' campaign outlays they way the two billionaires have. "We just don't know what effect that will have on the race," she said.
Candidates relying on donors who can give no more than $2,800 have started burning through their war chests. Sanders, the top fundraising candidate in the race, spent $49.7 million, $15.3 million more than he raised. Buttigieg's outlays exceeded his intake by $8.9 million, while Warren spent $12.1 million more than she raised. Biden spent almost $23 million, about same amount he brought in.
Outside money can help candidates, but most have rejected support from super political action committees, which can raise money in unlimited amounts. One exception is Biden, who has gotten support from Unite the Country, a super PAC that raised $3.8 million. California real estate broker George Marcus gave it $1 million.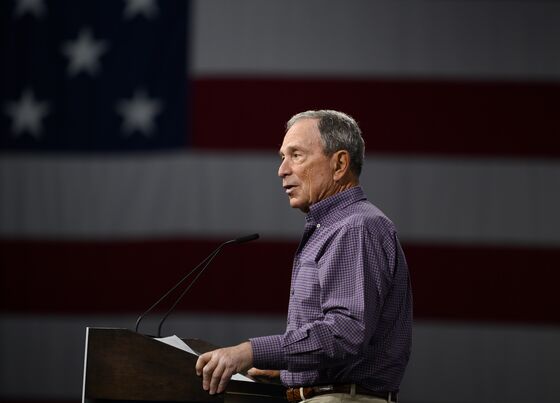 Steyer and Bloomberg poured more than twice as much money into Democratic presidential campaigns as all other donors combined in the fourth quarter of 2019.
Bloomberg gave his campaign $200 million, while Steyer, the founder of Farallon Capital Management LLC, put $155 million into his. Both exceeded the $140 million raised by all other active presidential Democratic campaigns combined, the latest filings at the Federal Election Commission show.
Other Democratic super-PACs touted their big donors. Priorities USA Action, the super-PAC that backed Barack Obama in 2012 and Hillary Clinton in 2016, got $1 million contributions from Investment management firm Baupost Group's Seth Klarman and hedge-fund operator S. Donald Sussman, and announced it had pledges from big donors that would boost its war chest to $111 million before the Democratic convention.
Klarman also shelled out $1.5 million to Pacronym, a super-PAC that's promised to spend $75 million on ads attacking President Donald Trump. Sequoia Capital's Michael Mortiz and Sussman gave the group $1 million.
America First Action and America First Policies, a super-PAC and political nonprofit that support Trump, announced they'd jointly raised $54 million in 2019 and added another $8 million in January. The groups said pledged donations will bring their total fundraising to $106 million.
Top donors included the group's chairwoman, Linda McMahon, who gave $1.5 million. McMahon is a former Trump administration official and in the past spent millions of dollars of her own fortune on two successful runs for a U.S. Senate seat in Connecticut. Dana White, co-owner of the mixed martial arts organization Ultimate Fighting League, gave $1 million.
Trump's campaign, two joint fundraising committees and the Republican National Committee combined to raise $155.2 million in the fourth quarter, with small-dollar donors giving $65.6 million of that amount. The committees ended the year with a combined $195.9 million cash on hand.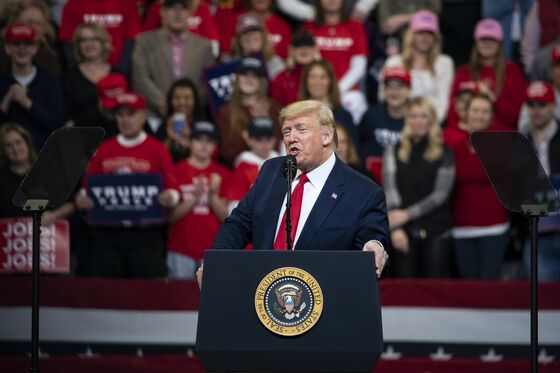 In 2019, contributors giving $200 or less poured $60.6 million into Sanders's presidential campaign, about 63% of the $96 million his campaign raised. Warren got 60% of the $72 million she's raised from small-dollar donors. Both have refused to hold closed-door fundraisers with big donors, preferring instead to rely on grassroots contributors.
Warren and Sanders have criticized Bloomberg and Steyer, saying the billionaires are trying to "buy" the election. Steyer's campaign said in January that he has no ceiling on what he'll spend. Bloomberg has said he's spending money he earned, and that his competitors had the same opportunity but are using funds from contributors who "expect something from them."
Bloomberg spent more than $188 million, including expenditures made before he formally became a candidate. That amount included $132 million in television advertising, $8.2 million on digital ads, $3.3 million on polling, $1.5 million on rent, and $757,000 on airfare, including $646,000 for a private plane, according to the campaign and its FEC report.
Bloomberg's total ad spending now tops $300 million, data from Advertising Analytics shows. Bloomberg is the founder and majority owner of Bloomberg LP, the parent company of Bloomberg News.
Steyer spent $154 million in the fourth quarter, including $131 million on broadcast, cable, radio and digital advertising, $7.6 million on salaries and payroll taxes, and $3.5 million on direct mail.
Unlike Bloomberg, who's skipping contests in four early states because he entered the race too late, Steyer is competing in them. He's spent $15 million on ads in Iowa and $17.7 million in New Hampshire. He's polling best in South Carolina, where he's in fourth place with 8.3% in the RealClearPolitics average.
Both spent far more in the fourth quarter than any presidential campaign had spent in the year before an election. Mitt Romney, currently a U.S. Senator from Utah, spent $87 million in 2007 in his unsuccessful bid for the Republican nomination.