Democrats' Small-Dollar Fundraising Tool Starts to Attract Big Donors Too
(Bloomberg) -- ActBlue, the online money machine, was designed to fuel Democratic politics through small-dollar donations. But it turns out that chief executive officers, lawyers and other deep-pocketed donors like the convenience of a one-click stop to max out on contributions in the presidential nomination contest.
While two-thirds of the money flowing through the platform came from millions of donations in amounts of $200 or less, thousands of contributors used ActBlue to give candidates the maximum amount allowed, Federal Election Commission data shows. That made the organization a conduit for the big donors and bundlers whose influence it says it wants to reduce.
"We certainly should not expect a major change in the types of people who give to campaigns just because there's a more convenient way of doing so," said Matt Grossmann, a political scientist at Michigan State University.
Launched in 2004 in part to battle the influence of big money in politics, ActBlue is for the first time the main fundraising tool for each of the Democratic presidential campaigns.
ActBlue's mission is to make it easier for individuals to contribute to candidates and causes, and it's processed a total of $3.7 billion in that time. Of the $212 million that the 2020 Democratic presidential candidates collectively raised through the second quarter of 2019, about 75% came through ActBlue.
Executive director Erin Hill said in an email that ActBlue's average donation in 2019 is $32.99. "Our mission has always been about empowering small-dollar donors and grassroots giving," she said.
Yet the ease of using ActBlue to contribute has appeal well beyond small-dollar donors, as is apparent in the FEC data.
Although campaigns have touted the online donations they've received from public schoolteachers, Amazon.com Inc. warehouse workers and Walmart Inc. employees, donors identifying themselves as lawyers gave more money -- $9.9 million -- than those specifying any other occupation.
Top executives gave more money, $1.7 million, than nurses, who gave $1.4 million. They included Joshua Bekenstein, co-chairman of Bain Capital LP, Seth Klarman of the Baupost Group LLC and Ralph Schlosstein of Evercore Partners, along with heads of much smaller firms and some nonprofit organizations.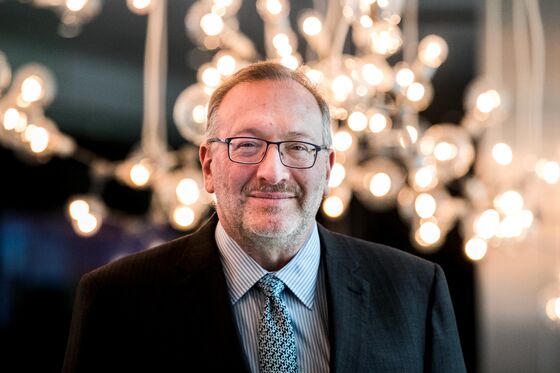 Klarman gave $5,600 -- $2,800 for both the primaries and the general election -- to Pete Buttigieg, Amy Klobuchar and Michael Bennet using ActBlue, while Schlosstein used the platform to give $2,800 to Joe Biden, Cory Booker, Beto O'Rourke and Klobuchar, and $5,600 to Bennet. Bekenstein gave $2,800 to Klobuchar.
"The wealthiest donors also want to be able to make a donation with one click," said Sheila Krumholz, executive director of the non-partisan Center for Responsive Politics, which studies the role of money in the political process.
Krumholz says that most of the Democratic field is trying to gather as many donations as possible from small-dollar donors, while also maximizing outreach to major donors. The notable exceptions are Bernie Sanders and Elizabeth Warren, both of whom have sworn off fundraisers with deep-pocketed contributors.
Most candidates' ActBlue numbers reflect the dual strategy. A little more than a third of the presidential campaign donations came from addresses with zip codes where mean household income is in the top 20% – about $214,000 in 2016, the most recent year for which tax data is available. Those with an average income of around $59,000 provided 29%.
Through June, 44% of Buttigieg's donors using ActBlue came from zip codes in the top income group, the highest proportion among candidates who have raised more than $10 million. Kamala Harris was second, at 42%, followed by Biden at 38% and O'Rourke at 37%. That's in sharp contrast to Sanders, who got 43% of his contributions from addresses in middle income areas. Just 17% of his contributions came from top income areas.
Warren, who announced that she was abstaining from big-dollar fundraising in February, also got the biggest share, 31%, of her money from the middle income group, while those living in zip codes in the top income areas gave 29%. Her biggest support came from the group between the two, who donated 33% of her total.
In the 10 most generous zip codes, a little more than 1,500 donors giving $1,000 or more accounted for 56% of the total. More than 60,000 small-dollar donors combined to give 30%.
Among the big givers were Mark Gallogly and Jeffrey Aronson of Centerbridge Partners, Andy Spahn, a Los Angeles-based Democratic bundler, and Daniel Cruise, the chief public affairs officer at Juul Labs Inc. All earmarked their contributions to presidential candidates through ActBlue.
ActBlue has drawn in some very small-dollar donations – nearly 10% came in amounts of $3 or less, in part fueled by candidates' need to add 130,000 unique donors to qualify for the debate in Houston next month. Some $2 million of those minimal donations went to Sanders, who has the highest number of unique donors.
Grossmann says that Sanders, the self-described Democratic Socialist, is enjoying the benefits of the broad, small-dollar donor base he built in 2016, but he's seeing far less than other candidates from traditional donors.
Krumholz said ActBlue has had the biggest effect on campaigns like those of Warren and Sanders, who can forgo the time-consuming process of raising money from smaller numbers of donors by relying on the online platform. She added that she isn't persuaded that it's changed the makeup of donors.
"It's simply a mechanism that both candidates and donors find useful," she said.