Biden Wants Kabul Attackers to Be Killed: Afghanistan Update
(Bloomberg) -- Large crowds milled around Kabul's international airport on Friday despite repeated warnings of more terrorist attacks, a day after 13 U.S. service members and at least 75 Afghan citizens died in what the Pentagon now says was a single suicide bombing rather than the two previously reported.
The window for civilian evacuations has all but closed for thousands of Afghans as many countries have either ended or are about to end airlift operations on security concerns.
President Joe Biden vowed to complete the U.S. evacuation mission in Afghanistan and pledged to go after the attackers, saying Thursday evening that "we will not forgive, we will not forget, we will hunt you down and make you pay."  
A Taliban official said 75 Afghans were killed and about 150 wounded in the airport violence, while the Associated Press quoted unnamed officials as saying at least 95 Afghans had died.
Key stories and developments:
All items are in Eastern Time:
Biden doesn't want attackers to 'live on the Earth anymore,' Psaki says (2:18 p.m.)
Biden wants those responsible for the Thursday attack on U.S. troops and Afghans to be killed, said White House Press Secretary Jen Psaki. 
Asked whether Biden would order a mission to kill those responsible, she told reporters: "He does not want them to live on the Earth anymore."
She also said Biden directed his administration to engage with the Taliban to continue evacuations of Americans or Afghan allies who aren't prepared to leave before U.S. troops depart. -- Jennifer Jacobs
U.K.'s Johnson Criticizes Afghan Pullout's Timing (1 p.m.)
Prime Minister Boris Johnson said the timing of the pullout from Afghanistan isn't what the U.K. would have preferred, as he vowed to shift "heaven and earth" to get remaining Britons and Afghans who have assisted British forces out of the country.
"The timing of this is certainly not the one that this country would have chosen," Johnson said on Friday in a pooled broadcast interview. "There will sadly be people who haven't got through, people who might qualify, and what I would say to them is that we will shift heaven and earth to help them get out; we will do whatever we can in the second phase."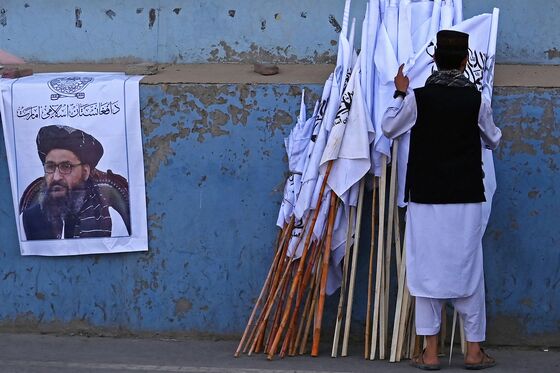 Johnson said the U.K. "continues to talk" with the Taliban, who are "no friends" of Islamic State, after an offshoot of the terrorist group targeted Kabul's international airport in a suicide bombing on Thursday. He said that attack shows Afghanistan is "extremely difficult" to govern and that the Taliban will therefore need a "working relationship" with western powers. -- Alex Morales
Pentagon Sees No Major Role in Evacuations After Aug. 31 (12:13 p.m.)
A day after President Joe Biden vowed to continue bringing Americans and their supporters out of Afghanistan beyond next week, Pentagon spokesman John Kirby said he doesn't expect "a significant military role in that effort going forward."
Kirby also said that the U.S. will continue "muscle movements" to reduce troop numbers and destroy some equipment ahead of Biden's Aug. 31 deadline to end the evacuation effort at Kabul's airport. He said that the Pentagon will stop providing daily updates on the number U.S. troop remaining, citing operational security.
The U.S. continues to receive "specific credible threats," Kirby said, adding "we certainly are prepared and would expect future attempts. We are monitoring these threats very, very specifically, virtually and in real time." -- Peter Martin and Tony Capaccio
Two British Nationals Were Killed in Kabul Attack, Raab Says (11:45 a.m.)
Two British nationals were killed in the attack on Kabul's airport on Thursday, U.K. Foreign Secretary Dominic Raab said in a statement.
A child of a British national was also killed in the attack, and two more citizens were injured. No military or government casualties have been reported.
"We will not turn our backs on those who look to us in their hour of need, and we will never be cowed by terrorists," Raab said. -- Charles Capel
EU Official Calls Afghan Pullout a 'Turning Point' for Defense (11:37 a.m.)
The abrupt U.S. pullout from Afghanistan is a "turning point" for Europe in the debate over the need for a common defense force, the European Union's internal market commissioner said.
"For me, European defense is no longer an option. It must come of age," Thierry Breton said in a written statement Friday, adding that the events in Afghanistan have spotlighted Europe's dependence on the U.S. military. "The only question is 'when.' And we will be ready."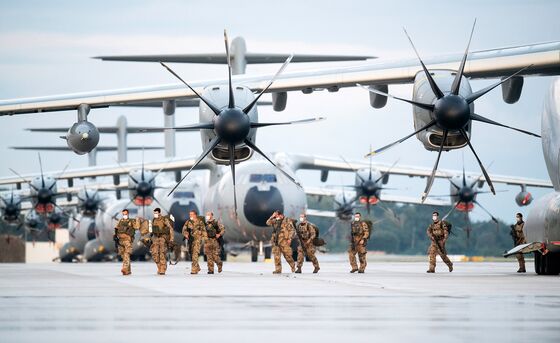 He said Europe needs a military projection force and should create a European Security Council to respond to various threats. -- Kevin Whitelaw
Pentagon Says Only One Blast Hit Kabul (10:49 a.m.)
The Pentagon said that despite earlier reports to the contrary, there was only one explosion that rocked the perimeter of Kabul's airport on Thursday, not two. 
Army Major General William Taylor told reporters that officials now believe there was only one suicide bomber, adding that "very dynamic events" like those on Thursday often lead to some erroneous information being reported. -- Peter Martin
Spanish Leader Calls Afghan Crisis a 'Failure' (9:15 a.m.)
Spain was able to help evacuate 2,206 people via 17 flights, Prime Minister Pedro Sanchez said at a news conference, calling the rescue operation "mission accomplished." 
Still, the situation inside Afghanistan is "a tragedy, a crisis, a failure," he added. Spain had manifested "many doubts" about the U.S. decision to pull out. "All of this is going to bring a series of consequences from the point of view of geopolitics, security and migratory flows that evidently we will have to have to reconsider, and take measures jointly." -- Charles Penty
Italy Pushes for Special G-20 Meeting (8:30 a.m.)
Italy continues to plan for a Group of 20 extraordinary summit, which could become "a platform for coordinated management" of the Afghan crisis, Italian Foreign Minister Luigi Di Maio said Friday in Rome at a joint press conference with Russian counterpart Sergei Lavrov. He didn't give details on potential timing.
The G-20 includes China, Russia and Turkey, which are crucial to building a cohesive approach to the Afghan issue.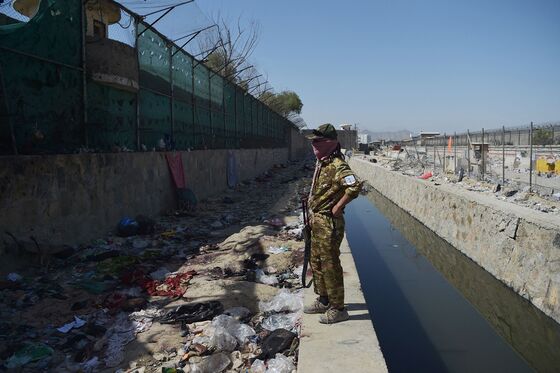 Italy is about to wrap up its operations at Kabul airport, Di Maio said, with a final flight carrying diplomats and troops due to take off in the coming hours. All Italian citizens and some 4,900 Afghan collaborators and their families have been taken out of the country. -- Flavia Rotondi
France to End Airlifts Soon (6:30 a.m.)
French evacuations from Afghanistan "will end soon," junior minister for European Affairs Clement Beaune told Europe 1 radio Friday. "It can go on maybe for longer than tonight but we must remain cautious on this topic."
The French Ministry of Foreign Affairs initially told reporters that evacuations could end Thursday. -- Ania Nussbaum
U.S. Evacuations Cross 110,000 (6:20 a.m.)
The U.S. has evacuated approximately 12,500 people from Kabul in the last 24 hours, White House Deputy Press Secretary Andrew Bates said on Twitter.
Since August 14, the U.S. has evacuated and facilitated the evacuation of approximately 105,000 people. Since the end of July, it has relocated approximately 110,600 people, Bates said. -- Jennifer Jacobs
Turkey's Security Fears Running Kabul Airport (3:30 a.m.)
Turkey has security concerns over the Taliban's request that it operate the country's main airport, Turkish President Recep Tayyip Erdogan said Friday.
"The Taliban said they would safeguard the airport if Turkey agrees to operate it," Erdogan said. "We have not made any decision yet. Anything can happen there any moment, including fatalities."
Talks with the Taliban were held at the Turkish embassy in Kabul, Erdogan said without giving any more details. -- Selcan Hacaoglu
U.K. to End Evacuation of Afghans in Hours (2:40 a.m.)
U.K. Defence Secretary Ben Wallace said the U.K. program to evacuate British and Afghan civilians has a matter of hours to run after it shut down its visa processing center outside the airport gates. About 1,000 people were taken into Kabul's airport from the Baron's Hotel nearby, and the processing center at the hotel was closed at 4:30 a.m. London time, he told Sky News. 
Wallace later told LBC radio that since Aug. 14, the U.K. has evacuated about 8,000 Afghans who have helped the British over the past 20 years. He said the government estimates about 100-150 British nationals will remain, some of whom are willingly staying. Another 800-1,100 Afghans who have helped the British will be left behind, he said. -- Alex Morales
Spain Ends Afghan Evacuations (2:10 a.m.)
Spain had ended its Afghanistan evacuation mission, according to an emailed statement by the Spanish presidency. The last two flights were scheduled to land in Dubai in the early hours of Friday. They carried 81 Spanish military personnel and embassy employees, as well as Afghan employees and their families. Spanish armed forces have flown a total of 1,898 people out of the country. -- Laura Millan
Pakistan Warns of Security Vacuum (2:00 am.)
Pakistani authorities have taken control of all hotels in Islamabad and stopped allowing any new reservations for at least the next three weeks, with thousands of foreigners, including diplomats and journalists, expected in the capital after the blasts in Kabul, the Dawn newspaper reported.
The "vacuum in Afghanistan is hugely dangerous," Information Minister Fawad Chaudhry tweeted on Friday. "The world must not abandon people of Afghanistan otherwise there will be a chaos. Pakistan is playing a responsible role, but a vibrant role of major powers is extremely important to stabilize Afghanistan." -- Ismail Dilwar
Taliban to Hunt Attackers, Official Says (1:45 a.m.)
A senior Taliban official who asked not to be named said about 75 Afghan nationals were killed and another 150 injured in the attack, which occurred close to a gate controlled by the U.S. The official also said the Taliban planned retaliation.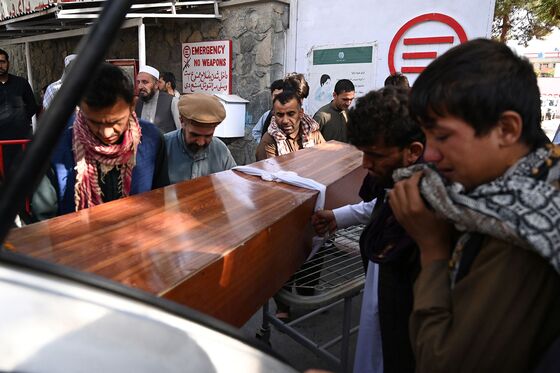 The official said the Taliban would go after the perpetrators, whoever they are, and avenge the attacks. -- Eltaf Najafizada
Australia Halts Evacuations of Citizens (9:20 pm.)
Australia won't attempt to evacuate any more of its citizens and visa holders out of Kabul after the attacks on the city, Prime Minister Scott Morrison said.
"Australia's completion of our operations mirrors that of many other countries now," Morrison told reporters in Canberra. The nation, an ally of the U.S. and a participant in its two-decade war in Afghanistan, evacuated some 4,100 people from the country since it fell to the Taliban, he said.
Morrison added there are no plans for Australia to engage in any further operations in Afghanistan as it moves into a "post-evacuation" phase. "We have been there for 20 years," he said. "Seeking to turn from a failed state into a successful state and, sadly, that hasn't proved possible." -- Jason Scott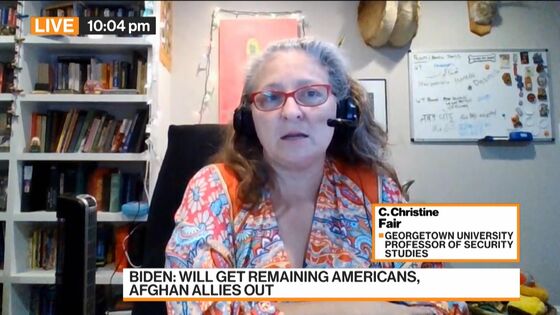 Deadline Won't Change, White House Says (6:30 p.m.)
Biden's Aug. 31 deadline to complete the evacuation mission in Afghanistan remains in place despite the deadly attacks, a White House official said.
"Nothing has changed on that timeline," White House Press Secretary Jen Psaki said at a Thursday evening press conference. She added that U.S. military commanders have advised the president to hold to the deadline. 
Psaki said the American flag would be flown at half staff at government buildings and military bases to honor the U.S. service members killed in Afghanistan. "I am certain the president will do everything he can to honor the sacrifice and service" of those who died, Psaki said. -- John Harney