Biden Voiced Openness on Migration to AMLO, Officials Say
(Bloomberg) -- President Joe Biden told his Mexican counterpart, Andres Manuel Lopez Obrador, during their virtual meeting Monday that he agreed on the need to increase legal paths to immigration, two Mexican officials said.
Biden was also open to a proposal on sharing vaccines with Mexico, although details must be ironed out, said one of the officials, who asked not to be named to discuss private talks.
On Tuesday, Lopez Obrador appeared to confirm the U.S. was receptive to his request on vaccines. "The possibility of Mexico having access to U.S. vaccines isn't closed," Lopez Obrador said at a daily press conference Tuesday. "But it's subject to the decision taken by both the U.S. and Mexican teams. They will decide if it's possible and when."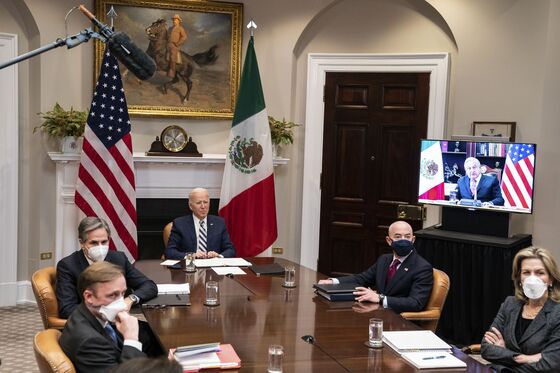 Lopez Obrador had said in the days leading up to Monday's call that he would seek to have Biden massively expand work visas for all types of jobs in order to help regulate migration flows from Mexico and Central America. He compared his proposal to the Bracero Program, which brought millions of Mexican guest workers to the U.S. on short-term contracts, chiefly to work in agriculture, during World War II.
Biden responded positively to Mexican officials, after they stressed the need to open more pathways to legal migration, one of the people said.
A senior U.S. official who was on the call confirmed the two leaders discussed developing legal pathways for migration and that they agreed to deepen the response to the pandemic.
Hours before their meeting, AMLO, as Mexico's president is known, said he would reiterate his request that the U.S. share part of its vaccine supply, or ask U.S. drug companies to sell more to countries like Mexico.
Biden agreed to analyze, along with AMLO, how to increase access to vaccines, one of the officials said.
The White House did not respond to a request for comment late Monday night.
A joint statement from both governments did not mention specific immigration proposals, but that Biden and Lopez Obrador had "committed to immigration policies that recognize the dignity of migrants and the imperative of orderly, safe, and regular migration" and pledged cooperation against "transnational criminal smuggling networks."
The statement also didn't say whether the leaders discussed vaccines. The White House indicated before the meeting such a shipment would not occur in the near future.
"The president has made clear he is focused on ensuring that vaccines are accessible to every American," Press Secretary Jen Psaki said earlier Monday. "That is our focus. The next step is economic recovery, and that is in ensuring that our neighbors, Mexico and Canada, have similarly managed the pandemic so that we can open our borders and build back better."
Asked whether he was willing to send vaccines to Mexico, Biden remarked, "we're going to talk about that" before asking reporters to leave the room.