Biden Vaccine Breakthrough Muted by Pandemic's Staying Power
(Bloomberg) -- President Joe Biden delivered welcome news to Americans that Covid-19 vaccines will be widely available two months sooner than expected but his message included a sobering reality: The pandemic isn't near an end.
He stepped in front of cameras at the White House on Tuesday to announce new breakthroughs: The authorization of a third vaccine, the acceleration of its delivery, a fast track for vaccinating teachers and reopening schools, and a partnership between two pharmaceutical giants.
But shortly before he spoke, the governor of Texas, Greg Abbott, lifted that state's mask mandate and other pandemic restrictions, defying warnings from health officials about the perils of dropping those precautions too soon.
At the same time, a U.K. variant that's more easily spread is set to become the main U.S. virus strain this month. Other countries are trying to prevent the spread of another variant from Brazil, and many nations lag far behind in the race to vaccinate their populations.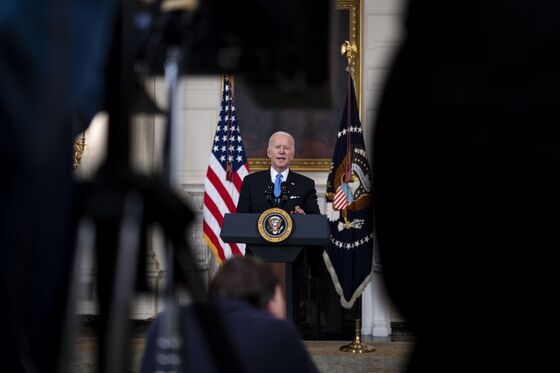 Even the fine print of the partnership shows the limits of U.S. breakthroughs in beating back a global plight. The deal between Johnson & Johnson and Merck & Co. is underpinned by the need to keep producing both vaccines and medicines for months and months, if not more, signaling there's no quick end.
And a glut of supply raises some problems sooner -- shortages of people to give the shots and millions who won't take them -- and hastens other ones, with states such as Texas reopening fully despite the pleas of the U.S. Centers for Disease Control and Prevention and other experts.
All told, Biden struck a clear-eyed tone in an event otherwise convened as a celebration. "We're moving in the right direction," he said. "But I have to be honest with you: This fight is far from over."
Biden's topline announcement was that the U.S. would have enough supply by the end of May to vaccinate all American adults. That's because regulators have authorized a third vaccine, which is already being shipped, and the White House on Tuesday announced a faster delivery schedule. The manufacturer, Johnson & Johnson, will now deliver "at or near 100 million doses" by the end of May, instead of 100 million by the end of June.
Biden had previously said there'd be enough supply for all adults by the end of July, but that was based only on vaccines from Pfizer Inc. and Moderna Inc., each of which requires two doses. The Johnson & Johnson shot requires one, but all three may have booster shots added to them.
Biden's administration is racing the clock -- moving to roll out injections while trying to quell new, more contagious mutations of the virus and bring the case count down, even as its recent decline has stalled.
Much of Biden's announcement celebrated the deal between the companies and another Biden's team signed with Merck, though each speaks to the pandemic's staying power.
The administration awarded Merck a pact worth as much as $269 million, while terms of Merck's deal with Johnson & Johnson weren't disclosed. Broadly, Merck is escalating its own production of coronavirus treatments while also, for an undisclosed sum, boosting manufacturing to provide the active ingredient for Johnson & Johnson's single-shot Covid-19 vaccine and then putting that substance into vials in what's called the "fill-finish" process.
Both contracts underscore a stark conclusion: that the world will need both coronavirus vaccines and treatments for months to come, and more.
"In the long term, these actions will ultimately double J&J's U.S. capacity to produce the drug substance in the vaccine and increase the U.S. capacity for fill-finish," the Department of Health and Human Services said in a statement.
J&J and Merck launched into discussions about a pact after Merck's own Covid-19 vaccine candidates showed lackluster results in early clinical trials. Merck shuttered the vaccine program in January and freed capacity to produce other things.
Its top executives decided to redirect facilities and resources toward the Covid-19 therapeutics it already had in the pipeline, while launching into discussions with other companies, Chief Marketing Officer Michael Nally said in an interview.
However, preparing the fill-finish sites will take a few months, Nally said, and producing the ingredient will take longer. Merck will not likely be making J&J's ingredient until the second half of the year, he said.
"Getting the fill-finish piece up and running is ultimately what gets doses out the door," Nally added. "We're getting that piece sorted out as quickly as possible, and we'd love a way to be able to contribute to J&J's timeline," of delivering 100 million doses by around the end of May, he added.
Going forward, in the U.S. and abroad, Merck could be tasked with manufacturing additional doses of J&J's Covid-19 vaccine to combat new variants, or boosters to extend protection since its durability remains unknown, Nally said.
U.S. gains in vaccination rates are outpacing that of other nations. The virus will continue to spread, and change, so long as it can do so. Vaccinating the bulk of the world could drag into 2022, potentially allowing for new mutations to erupt and then reach U.S. soil once more. The U.S. hasn't yet said how it will share any excess doses, and this week rebuffed a request from Mexico to share some now.
While many challenges remain out of Biden's control, some don't. He also announced on Tuesday a fast-track effort to give teachers, child-care workers and school staff more priority for the vaccine. Biden called on states to give those groups at least one shot before the end of the month, while also saying he'd use a pharmacy vaccination program for those groups. It caught some by surprise.
"This announcement represents a faster timeline than originally planned," the Washington State Department of Health said in a statement. The state "is working quickly to get clarity from the Biden administration."
Biden acknowledged the perils ahead.
"Things may get worse again as new variants spread and as we face setbacks," Biden said. "Though we celebrate the news of the third vaccine, I urge all Americans: Please keep washing your hands, stay socially distanced, wear masks -- keep wearing them, get vaccinated when it's your turn. Now is not the time to let up."
As he turned to leave, he stopped for a shouted question: When things would return to normal?
"I've been cautioned not to give an answer to that because we don't know for sure," Biden replied. "But my hope is, by this time next year, we're going to be back to normal, and before that -- my hope. But again, it depends upon if people continue to be smart and understand that we still can have significant losses. There's a lot we have to do yet."