Warren on the Rise for Leadership, Electability: Campaign Update
(Bloomberg) -- As Elizabeth Warren continues to rise into a tie with Joe Biden for the lead in polls of Democratic candidates, she also has benefited from increasingly positive voter perception of her, according to a Quinnipiac survey released Monday.
Warren led Biden 30% to 27% among Democratic voters and independent voters who lean Democratic. A Quinnipiac poll released last Tuesday had her ahead 29% to 26%, also a 3-point spread, within the margin of error. Bernie Sanders was at 11%, down from 16% a week ago.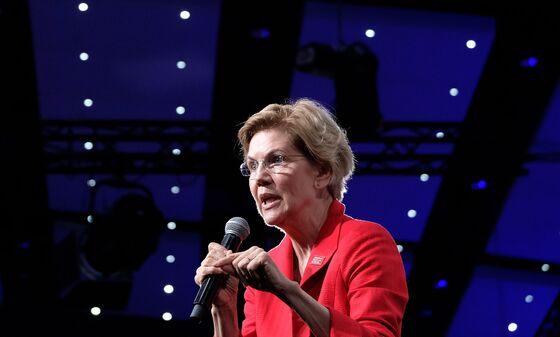 The poll released Monday was conducted October 11-13 and for the section of the poll concerning Democratic voters, had a margin of error of plus or minus 5.3 percentage points.
Biden is still seen by voters as a better leader and more electable in a general election against President Donald Trump, but Warren is closing in. In Monday's Quinnipiac poll, Biden was seen as the best leader by 32% and Warren was by 28%. In August, Biden was at 33% and Warren had 22%.
Biden is seen by 48% of voters as having the best chance of defeating Trump in the general election. He had 49% in August. For Warren, 21% said she was the most electable against Trump, more than double the 9% who said so in August.
By a wide margin, voters say Warren has the best policy plans. She has 40% support compared with 16% for Biden and 12% for Sanders. In August, 32% of voters thought Warren had the strongest plans, with 17% for Biden and 16% for Sanders.
Biden Unveils Broad Anti-Corruption Proposal (7:52 a.m.)
Joe Biden -- accusing Donald Trump of presiding over "the most corrupt administration in modern history" -- proposed a ban on lobbying by foreign governments and the creation of a federal corruption watchdog agency.
Biden on Monday also pledged to introduce a constitutional amendment that would eliminate private funding for federal elections as part of a broad anti-corruption plan that his campaign said will "ensure no future president can ever again abuse the office for personal gain." The roll out comes as Biden is under siege from Republicans over discredited allegations about his son Hunter's business dealings in Ukraine and China.
Biden's proposal would aim to bar presidents from "improperly interfering" in federal investigations and includes a pledge to issue an executive order to bar White House staff from obstructing Justice Department probes following a Bloomberg report that Trump pressured then-Secretary of State Rex Tillerson to persuade DOJ to drop a criminal case against an Iranian-Turkish gold trader who was a client of Rudy Giuliani. -- Caitlin Webber
The fourth Democratic debate is scheduled for Tuesday at Otterbein University in Westerville, Ohio. Twelve candidates are slated to take part: Biden, Elizabeth Warren, Bernie Sanders, Cory Booker, Pete Buttigieg, Julian Castro, Kamala Harris, Amy Klobuchar and Beto O'Rourke, Tulsi Gabbard, Tom Steyer and Andrew Yang.