Biden, Trump Stage Dueling Rallies on Eve of Georgia Election
(Bloomberg) -- Joe Biden and Donald Trump held dueling rallies Monday ahead of Georgia's critical Senate runoff election, where the president-elect promised a Democratic Congress would pass more pandemic relief while the president revisited his claims that vote fraud robbed him of re-election.
At a drive-in rally in Atlanta, Biden said the entire country is looking to Georgia to help him implement his agenda by electing Democrats to both of the state's Senate seats.
"The power, the power is literally in your hands," he said. "Unlike any time in my career, one state -- one state --can chart the course not just for the next four years but for the next generation."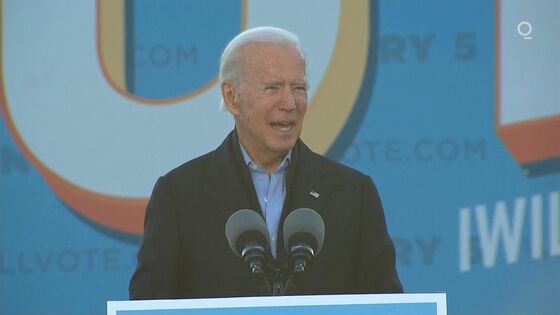 Trump agreed, in a way, charging that if Democrats win the two seats on Tuesday, "the damage they do will be permanent and will be irreversible. Can't let it happen. These Senate seats are truly the last line of defense."
He quickly admonished news organizations not to interpret the remark as a concession that he had lost on Nov. 3. "No, no, I don't concede," he said.
The election Tuesday will decide which party controls the Senate in the first two years of Biden's presidency and with it, his agenda. If Republicans manage to keep at least one of Georgia's two Senate seats, the party would have a narrow majority in the chamber.
That would empower Majority Leader Mitch McConnell to block Biden's initiatives, as well as nominees to his administration and the judiciary.
If Democrats Jon Ossoff and Raphael Warnock can take both seats from Republican incumbents David Perdue and Kelly Loeffler, the Senate will be split 50-50, giving incoming Vice President Kamala Harris the tie-breaking vote.
Biden promised that a Democrat-led Senate would pass $2,000 stimulus payments "to help people in real trouble."
"Think about what it will mean to your lives," he said. McConnell has blocked the Senate from increasing direct payments in the last round of pandemic relief from $600, despite Trump advocating the larger checks.
Trump has linked the Senate races to his own fate in the state. In an extraordinary, hour-long phone call on Saturday, Trump pressured Georgia Secretary of State Brad Raffensperger to find a way to shift the state's presidential results in his favor before Tuesday.
At his rally on Monday night in Dalton, Georgia, attended by thousands of supporters who mostly did not wear masks, Trump repeated a litany of allegations that the November election was fraudulent, citing no sources.
His claims have been thrown out of dozens of courts across the country, and some Georgia Republicans have expressed concern that Trump's insistence the state's election machinery isn't trustworthy may dissuade the party's voters from turning out on Tuesday.
"When you win in a landslide and they steal it, and it's rigged, it's not acceptable. It's not acceptable," Trump complained.
"If these two don't win and if we don't take the presidency," he said, referring to Loeffler and Perdue, "you have a country that would be run by Schumer, Pelosi and Biden" He was referring to House Speaker Nancy Pelosi and Senate Minority Leader Chuck Schumer.
Trump again assailed Raffensperger and Georgia's governor, Brian Kemp, who each certified the state's election in Biden's favor, and said he would return to Georgia in 2022 to campaign against their re-elections. Both are Republicans.
The high stakes of the Senate races have sent a flood of cash pouring into the state. Spending in the two runoffs is approaching $500 million, according to the Center for Responsive Politics.
Trump brought a number of advisers and allies to the Georgia rally, likely to be one of the last of his presidency, including Representative Marjorie Taylor Greene, whose district includes Dalton. Sworn in over the weekend, she's a QAnon adherent who has made racist, Islamaphobic and anti-Semitic statements. Ivanka Trump, the president's eldest daughter and a White House adviser, and South Carolina Senator Lindsey Graham, also accompanied him.
Trump invited Greene to speak on stage at his rally, in addition to Loeffler. Perdue, who is in quarantine because of exposure to the coronavirus, addressed the audience by video.
Vice President Mike Pence was also in Georgia on Monday, speaking at a rally at a church in Milner. He gave a slight chuckle when a "four more years" chant broke out.
Pence has not addressed Trump's call with Raffensperger but it is roiling the Republican Party, with even some of Trump's stalwart allies like Senator Marsha Blackburn of Tennessee calling it "not helpful."
Pence did briefly speak about the unsubstantiated claims of widespread voter fraud that Trump alleges took place in November's presidential election, saying that Republicans have "thousands of people" across Georgia, monitoring the election for instances of potential fraud.
"We're on them. We're going to secure the polls, we're going to secure the drop boxes. You get out and vote tomorrow and you vote for David Perdue and Kelly Loeffler and be confident," Pence said.
Pence will play a starring role on Wednesday when he must preside over congressional certification of Biden's victory in the Electoral College. Some Republicans believe the vice president can single-handedly change the outcome of the election by rejecting votes from states where Trump has lodged allegations of fraud. The Constitution gives the vice president no such role in the event.
Trump was seen meeting with Pence in the Oval Office before he departed for Georgia.
"I hope Mike Pence comes through for us, I have to tell you," Trump said at the rally. "He's a great guy. Of course, if he doesn't come through, I won't like him quite as much."
He added that Pence "will call it straight."
Democrats are hoping that a surge of early voting in Georgia will give them an edge as Republicans traditionally go to the polls on Election Day in larger numbers. An early-vote advantage helped Biden defeat Trump in November by an 11,779-vote margin in the state.
Limited polling in Georgia shows both races extremely close, though the Democrats hold narrow leads. More than 70,000 new voters have registered in the state since Nov. 3. Interest in the race is high — more than 2.8 million people had cast ballots as of Thursday, shattering the previous record set by the December 2008 Senate runoff, when 2.1 million votes were cast.
It will likely take at least a few days to know the results and given the stakes, the counts are likely to face legal challenges that could further delay the determination of a winner in either race.