Biden Troop Deal With South Korea Calls for Modest Increases
(Bloomberg) -- The U.S. accepted a troop-funding increase from South Korea significantly less than demanded by the Trump administration, underscoring President Joe Biden's efforts to ease tensions with a key ally often criticized by his predecessor.
South Korea agreed to pay 1.18 trillion won ($1.04 billion) to the U.S. for security this year, about a 14% increase from 2019, the Foreign Ministry said Wednesday in Seoul. The Asian nation would pay 5.4% more next year, with similar increases annually until 2025 under the six-year deal.
Costs for 2020 were held flat, and the deal marks a 32% increase in the period from 2016 to 2022.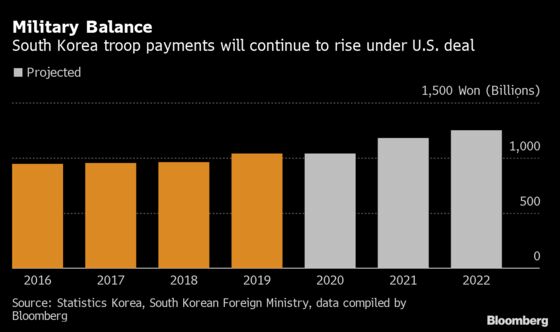 The cumulative increase will still fall far short of the $5 billion former President Donald Trump had sought to pay for the some 28,500 American military personnel and other assets in South Korea. That demand was met with bipartisan resistance in Seoul where it was seen as exorbitant, with President Moon Jae-in's government indicating it wasn't willing to pay much more than the country had previously.
The resolution less than two months into the new U.S. administration reflects Biden's desire to restore alliances strained by Trump's "America First" policies and demands for increased funding. Much of Biden's foreign policy plans rest on coordination with allies, and he had specifically pledged not to "extort" South Korea.
A U.S. State Department official, speaking to reporters on condition of anonymity Wednesday, said the agreement removes an unnecessary irritant in relations and lets the two countries focus on challenges they face together. The official called the agreement fair and equitable and said it would be formally signed in the next few weeks.
The U.S. troops in South Korea are intended to provide a front-line defense against North Korea and potentially China.
Although the U.S. and South Korea announced that they had reached the deal Sunday, details of the agreement weren't released until now. State Department spokesman Ned Price told a news briefing Tuesday that the deal had been "negotiated carefully, and, at least in principle, successfully."
Secretary of State Antony Blinken and Defense Secretary Lloyd Austin will visit Seoul from next Wednesday. The trip is part of Biden's efforts to demonstrate an early diplomatic focus on Asia. The U.S. and Japan separately agreed last month to extend their soon-to-expire troop-funding deal by one year.
U.S. and Japan Reach One-Year Deal to Extend Troop Financing
South Korea praised a decision to peg future contributions to the rate of its own defense costs as "rational," saying the sum would reflect the country's "fiscal and military capability."
"The ROK and the U.S. have resolved the key alliance issue early and smoothly, soon after the inauguration of the Biden administration," the Foreign Ministry said Wednesday, referring to South Korea's formal name of the Republic of Korea. "This shows the solidarity of the ROK-U.S. alliance."
The 13.9% increase this year includes a 7.4% boost equal to the rate of increase in South Korea's defense costs and another 6.5% for local personnel costs, the ministry said.
Despite Trump's criticism, South Korea spends a larger share of its economic output on defense than many other U.S. allies. In August, Seoul unveiled a five-year military blueprint that called for $253 billion in defense spending between 2021 and 2025, an average annual increase of 6.1%.