Biden Touts Endorsements After Uncertain Iowa Finish
(Bloomberg) -- Joe Biden's campaign was looking ahead from an unclear Iowa caucus outcome with new endorsements Tuesday from key Democrats in South Carolina and Super Tuesday states as his turns to contests where it believes he perform well.
The former vice president received the endorsements Tuesday of California Secretary of State Alex Padilla; former Arkansas Governor and Senator Mark Pryor; former Arkansas Senator David Pryor; former South Carolina Governor Jim Hodges and his wife, Rachel; as well as the mayors of two cities in Super Tuesday states.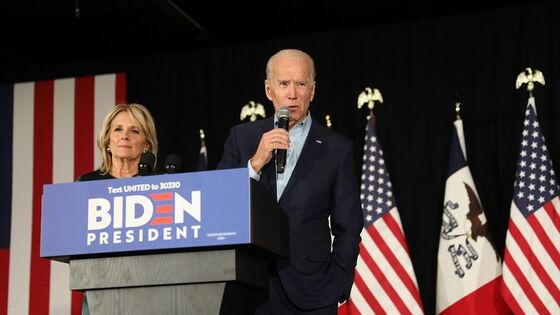 Biden's team has long argued that success in South Carolina's primary, on February 29, and three days later on Super Tuesday, will be a critical sign of a candidate's electability because of the geographical, ideological and racial diversity of those states. States that vote on Super Tuesday include California, Texas, Arkansas, Alabama and Virginia.
"It's Joe's time to lead. The nation needs him and our party needs him, especially in South Carolina," Hodges said in a statement. "The ripple effects of nominating the wrong person at the top of the ticket will be felt everywhere, but even more so in the South."
Padilla, his state's third-highest-ranking elected official, had endorsed Kamala Harris before she dropped out.
Biden was also endorsed Tuesday by Timothy Ragland, the 29-year-old mayor of Talladega, Alabama., and Sherman Lea, the mayor of Roanoke, Virginia.