Biden Tells Insurers to 'Pay What You Owe' for Storm Damage
(Bloomberg) -- President Joe Biden said his administration is pressuring insurers to cover damage from Hurricane Ida, warning them not to deny claims because homeowners weren't under mandatory evacuation orders.
"No one fled this killer storm because they were looking for a vacation or a road trip. And so I'm calling on private insurance companies: Don't hide behind the fine print and the technicality," he said after surveying storm damage in LaPlace, Louisiana, just west of New Orleans. "Pay what you owe your customers."
Earlier, Biden met with local officials and Governor John Bel Edwards as hundreds of thousands of homes and businesses remained without electricity. The president said his team also met with heads of energy companies and that power is being restored as fast as possible.
"Faster than anything that happened during Katrina," he said, referring to the devastating 2005 hurricane that caught the George W. Bush administration off guard. 
Ida is testing the Biden administration's ability to assist tens of thousands of people in a path of destruction stretching from the Gulf Coast to the New York City region, which suffered catastrophic flooding from the storm's remnants.
Efforts to restore electricity in Louisiana and Mississippi are moving slowly but steadily after the storm severely damaged the power grid. About 863,000 homes and businesses were still in the dark Friday, down from 1.1 million after Ida blew through the region Sunday.
All eight of the key transmission lines feeding New Orleans were damaged but Entergy Corp., the state's biggest utility, had two back in service by Thursday. The company expects to have power restored to most of its customers by Sept. 8, but has said some people in the hardest-hit areas may be without service for weeks.
Biden said Friday that he understands residents are frustrated with continued power failures. He said his administration is "working 24/7" with power companies on restoration efforts.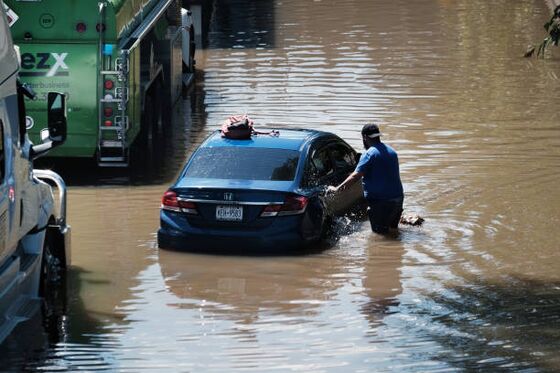 The president said the federal government would supply generators to provide electricity, adding that officials have been working to supply food and water.
And he took the opportunity to tout the bipartisan $550 billion infrastructure plan the Senate passed, saying it would modernize roads, bridges, sewer systems and power grids "to make sure they're more resilient."
Biden's administration deployed roughly 6,000 National Guard members to Louisiana, Mississippi, Alabama and Texas and has sent generators to hospitals and medical facilities. 
The Louisiana congressional delegation, including fiscally conservative Republicans, on Thursday called on Congress to pass emergency-funding legislation to help the state recover from Hurricane Ida and other recent storms. 
During his tour of LaPlace, Biden was joined by two members of Congress, Representatives Troy Carter, a Democrat, and Garret Graves. Graves is a Republican who voted after the Jan. 6 Capitol insurrection to reject Electoral College results from Pennsylvania, where Biden defeated former President Donald Trump.
"We're reminded that this isn't about politics," Biden said on Thursday. "Hurricane Ida didn't care if you were a Democrat or Republican, rural or urban."
The storm left environmental hazards in its path. Louisiana is investigating 161 oil spills of various sizes in land and on water, said Sam Jones, of the state's Oil Spill Coordinator's Office. But officials have been hampered in their ability to inspect them. Among the spills reported to state officials are "a dark sheen" in the Gulf of Mexico coming from a well and a "dark stream of oil."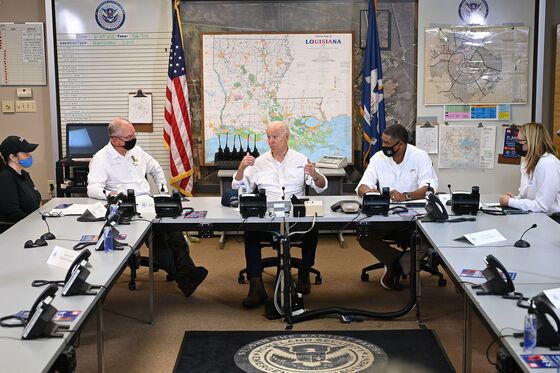 Biden has directed his administration to take steps to increase the availability of gasoline to ease pressure on prices at the pump while most oil production in the Gulf of Mexico remains shut. The Department of Energy authorized Exxon Mobil Corp. to receive crude oil from the Strategic Petroleum Reserve to kick-start the production of fuels.
Many fuel producers shut their plants as Hurricane Ida came ashore, leaving supplies pinched, and widespread damage to the electricity grid has cut off their power.
Ida is the fifth-largest storm to hit the U.S. mainland. It smashed into Louisiana on Sunday with record 150-mile-per-hour winds,leaving more than 1 million customers across the South. 
More than 1,400 employees from the Federal Emergency Management Agency have deployed in the South in response to the hurricane. The U.S. Army Corps of Engineers is also helping, including with efforts to return power and access damage in the storm wracked area. The Transportation Department has waived hours-of-service rules for truckers who are hauling shipments of fuel and other supplies.