Biden Faces Political Blowback on Afghanistan Ahead of Address
(Bloomberg) -- President Joe Biden and his national security team tried Monday to explain to the American people the unfolding calamity in Afghanistan, where scenes of chaos and desperation shook perceptions of his leadership and posed the biggest crisis yet of his presidency.
Biden was returning from the presidential retreat at Camp David to address the nation from the White House at 3:45 p.m. But top aides went on television early Monday previewing an effort to shift blame to Afghan security forces for the Taliban's rapid toppling of the government in Kabul.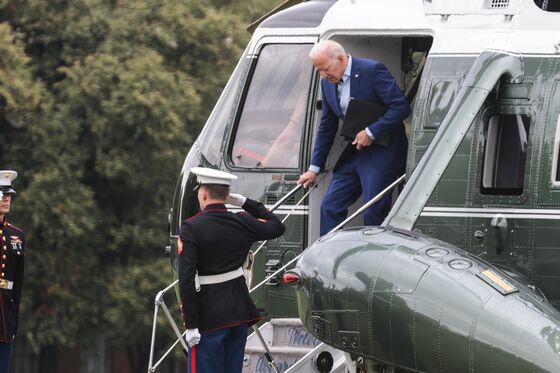 Biden will speak from the East Room, where less than a week ago he told reporters he didn't regret withdrawing U.S. troops, despite some experts warning that the Taliban would quickly reassert control after the 20-year military presence. Images over the weekend and Monday of panic and despair at Kabul's airport intensified pressure on the president to explain how his administration had so severely misjudged conditions in the country.
Thousands of Afghans swarmed a U.S. Air Force plane on the tarmac as American troops arrived in hopes of securing the final avenue of escape. Flights in and out of Kabul were subsequently halted, and the Associated Press reported that seven people had died at the airport.
Pentagon spokesman John Kirby acknowledged -- but did not confirm -- reports that a U.S. soldier may have been injured at the airport. The harm of U.S. personnel would undermine one of Biden's few remaining talking points - that the withdrawal had so far been safe for Americans exiting the country.
The chaotic videos, shared widely on social media, were the latest in a series of indelible images -- from U.S. embassy employees evacuating by helicopter to an official picture of Biden sitting at a Camp David table alone as he was briefed virtually by aides -- that in recent days rapidly undermined the White House's carefully constructed effort to depict themselves as competent bureaucrats who would restore calm and American global influence after the Trump years.
The crisis has thrown Biden's administration into political peril, as critics have seized on his disproven assertions that the U.S. drawdown would be orderly and that Afghans who had worked alongside American troops as translators would be protected.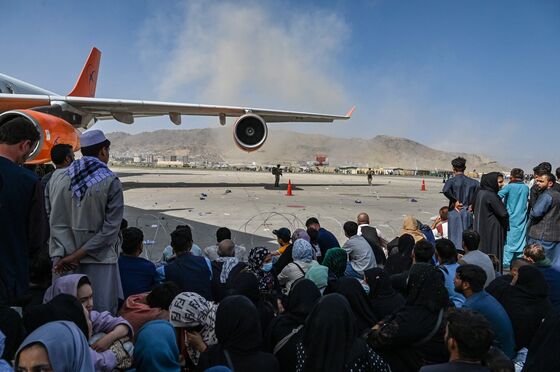 "Afghanistan is the most embarrassing military outcome in the history of the United States," former President Donald Trump said in a statement on Monday. "It didn't have to be that way!"

Even some of Biden's allies have openly fretted about the optics of the Taliban again reigning over Afghanistan as the 20th anniversary of the Sept. 11, 2001, terrorist attacks approach, with the looming anniversary threatening to focus attention for weeks on the unfolding calamity. Congressional Demorats questioned the president's strident insistence to proceed with the withdrawl even amid intelligence reports suggesting that Afghan security forces were providing little resistance.
"Our military presence in Afghanistan should not have continued indefinitely, but the withdrawal of U.S. troops should have been carefully planned to prevent violence and instability, and to ensure that the hard-fought progress gained over the past two decades -- particularly when it comes to Afghan women and girls -- would not be lost," said Senator Tom Carper of Delaware.
As a result, Monday's speech could prove a pivotal make-or-break moment for a president who has already seen political divisions within his own party threaten his push for a signature infrastructure bill, and whose efforts to crush the coronavirus have been foiled by new variants and vaccine hesitancy.
Members of Biden's national security team provided an early glimpse of the explanations Biden is likely to offer in a series of network television interviews Monday morning. National Security Adviser Jake Sullivan repeatedly blamed Afghan security forces for providing little resistance, saying they "ultimately decided that they would not fight for Kabul and they would not fight for the country."
"What the president kept saying over and over again was that it was not inevitable that Kabul would fall, and it wasn't inevitable. There was the capacity to stand up and resist. The capacity did not happen," Sullivan told NBC News.
But blaming Afghan forces only underscored the extent to which the U.S. seemed to misunderstand the conditions on the ground in Afghanistan, despite investing nearly two decades and hundreds of billions of dollars in training and equipping a force that easily crumbled. At the same time, the administration appeared to fail to recognize warning signs from green-on-blue attacks -- those committed by Afghan soldiers against U.S. troops -- to widespread reports of hunger and corruption with the military ranks.
The crisis also suggested deep-seeded intelligence and logistical failures, throwing into question the administration's claims they would be able to continue to disrupt terror organizations and plots with offshore, "over-the-horizon" military efforts -- particularly as the Taliban's rapid ascension meant the potential freeing of former al-Qaeda and Islamic State operatives from prisons across the country.
That concern was echoed even by some of Biden's closest international allies.
"Nobody wants Afghanistan, once again, to be a breeding ground for terror," U.K. Prime Minister Boris Johnson said Sunday. "It's fair to say the U.S. decision to pull out has accelerated things."
Despite the embarrassment of recent days, aides say the president still believes that he did the correct thing in withdrawing from Afghanistan, and will make the case that the ensuing crisis only underscores the futility of maintaining a troop presence in a country where certain institutions would never take root. And there is a belief among White House staffers that voters may not punish Biden for leaving the country, particularly considering that Trump also agitated for an even faster withdrawal.
Biden sought to cast blame on his predecessor for striking a deal with the Taliban before leaving office, and may again look to shift some of the blame as he speaks Monday. But his bigger challenge will be convincing voters that he maintains a grasp on good governance as the scenes of tumult and turmoil unfold on their screens.
"As we continue the evacuation, we cannot forget our Afghan partners and other vulnerable civilians whose lives are in danger, due in part to the precipitous withdrawal of U.S. and NATO forces," Democratic Senator Jeanne Shaheen of New Hampshire said Monday. "We know what will happen if we abandon them – we cannot leave them to die."