Biden Promises Virus 'War Footing' to Speed Shots for All Adults
(Bloomberg) -- President Joe Biden offered Americans a glimpse of hope that life would begin to return to normal this summer as he marked a year of U.S. shutdowns and death, ordering a further acceleration of the government's efforts to end the pandemic.
In his first prime-time address to the country since his inauguration, the president directed states to make all U.S. adults eligible for vaccinations by May 1, and he said his administration would reach his goal of 100 million shots in his first 100 days in office by his 60th day as president.
"We're not only going to meet that goal, we're going to beat that goal," he said in remarks on the anniversary of the day a year ago when the World Health Organization declared a pandemic.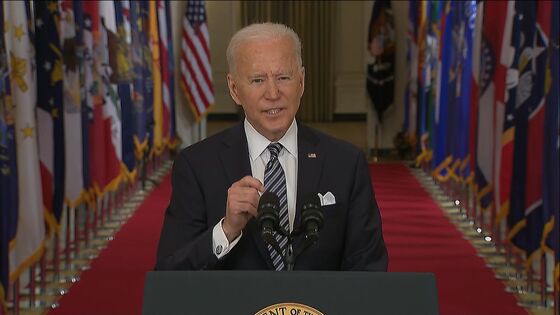 "I need you to get vaccinated when it's your turn and you can find an opportunity," Biden said.
He has previously said the administration expects to have enough vaccine by the end of May to vaccinate all U.S. adults, though officials have warned that actually administering shots will take more time.
Some states may already be on track to open eligibility for shots to all adults within weeks, and one -- Alaska -- already has.
If the nation can reach its vaccination goals, it will be possible for Americans to gather in small groups to celebrate July 4, Biden said.
"The only way to get our lives back, to get our economy back on track, is to beat the virus," Biden said.
If Americans can gather on Independence Day, he said, "that will make this Independence Day something truly special, where we not only mark our independence as a nation, but we begin to mark our independence from this virus."
Biden's address was intended partly as a remembrance of the dark year the U.S. has suffered, with more than half a million people dead of Covid-19. At about the same time as the WHO declaration, Americans began to adopt social-distancing practices that would lead to the temporary collapse of the economy, throwing millions out of work.
"We all lost something. A collective suffering, a collective sacrifice. A year filled with a loss of life, and a loss of living, for all of us," Biden said.
But the president also sought to outline the path out of the pandemic for the country, as well as laud his signing, earlier Thursday, of a $1.9 trillion relief measure that was his top priority entering office.
"Finding light in the darkness is a very American thing to do. In fact, it may be the most American thing we do," he said.
The Republican National Committee criticized Biden for taking a victory lap for "a $1.9 trillion boondoggle," saying that little of the money would go toward combating the pandemic.
Biden's speech, the RNC said in a statement, is "an important reminder that one year ago today, President Trump announced an aggressive and comprehensive effort to confront the virus that ultimately resulted in the fastest creation of a vaccine in modern history through Operation Warp Speed."
Biden's predecessor addressed the nation from the Oval Office on March 11, 2020, when he announced a travel ban from Europe to try to stop the spread of the virus in the U.S. But throughout the year, he repeatedly downplayed the severity of the pandemic.
Biden took a swipe at Trump at the beginning of his remarks, saying that in the U.S., the virus initially was "met with silence and spread unchecked."
"Denials for days, weeks, then months," he said. "That led to more deaths, more infections, more stress and more loneliness."
In addition to setting the May 1 and July 4 vaccination goals, Biden announced that his administration will begin distributing vaccines to 700 more community health centers, to reach underprivileged communities, and that it will double the number of retail pharmacies receiving shots directly from the federal government, the officials said.
U.S. stock futures held onto earlier gains in overnight trading while Biden was speaking, extending a Wall Street rally that saw the Standard & Poor's 500 Index hit another record.
In other new moves, Biden announced that the federal government by May 1 would open websites that will help Americans locate available vaccines, duplicating services that some states and private groups have already made available.
He also announced forthcoming guidance from the U.S. Centers for Disease Control and Prevention for vaccinated people, including recommendations on travel, social gatherings, work and religious worship. The guidance "will make the benefits of vaccination clear to encourage more Americans to get vaccinated," according to a fact sheet the White House issued.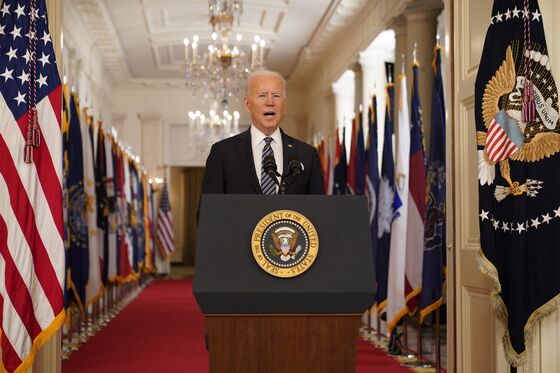 Biden announced more federal support for schools to re-open. The White House said that would include efforts to expand screening of students for coronavirus infection, and to encourage teachers and other school staff to be inoculated.
The administration will improve efforts to identify variant strains of the coronavirus circulating in the U.S. using genomic testing, the White House said.
The president said the new stimulus bill was "a historic piece of legislation" that would fund the new steps his administration is taking to curb the pandemic. Eligible Americans can expect to begin receiving government payments of as much as $1,400 as soon as this weekend, White House Press Secretary Jen Psaki said.
"If it fails in any place, I will acknowledge that it failed," he said. "But it will not."
No congressional Republican voted for the bill, and none of them will attend a signing ceremony on Friday at the White House.
Thursday is the 50th day of Biden's presidency. Since his inauguration, U.S. vaccination rates have increased from about 900,000 per day to an average 2.2 million as of Thursday, according to the Bloomberg Vaccine Tracker.
Eric Topol, the director and a founder of the Scripps Research Translational Science Institute, called the May 1 goal "eminently doable. What's notable is we hit 2.9 million in a day and I'm confident we're going to hit 4 million in a day."
As for July 4, Topol said, "I do think it'll be a time to celebrate."
Starting on Monday, Biden, Vice President Kamala Harris and their spouses will embark on what the White House calls a "Help Is Here" tour to promote the new relief bill. They'll travel the country to tout its benefits, including direct payments to American families and funding for coronavirus vaccines, and they will visit businesses that have been able to stay afloat with government loans.
Friday's ceremony and the subsequent marketing campaign underscore the stakes for Biden and the Democratic Party, who need to show Americans that they're helping the nation recover from the public health and economic catastrophes they have blamed largely on the Trump administration.