Biden Urges Stricter Gun Checks Amid Spate of U.S. Shootings
(Bloomberg) -- President Joe Biden called on lawmakers to pass stricter gun safety laws during his first joint address to Congress on Wednesday night, responding to a spate of gun violence across the U.S.
"Our flag at the White House was still flying at half—staff for the 8 victims of the mass shooting in Georgia, when 10 more lives were taken in a mass shooting in Colorado," he said, according to the text of his speech distributed as he spoke. "In the week between those mass shootings, more than 250 other Americans were shot dead."
Biden urged action on three House-passed bills aimed at strengthening background checks and pressed lawmakers to ban assault weapons and high capacity magazines.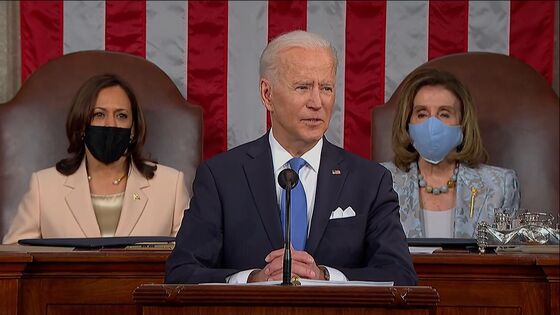 The House measures so far haven't mustered enough votes in the narrowly divided Senate, which is split 50-50 along party lines. A 60-vote majority would be required to bypass a filibuster and pass the bills in that chamber, meaning Republican support would be necessary.
Biden characterized gun violence as an epidemic in America after several recent mass shootings and high-profile police killings of Black Americans.
Polling indicates a majority of Americans, including gun owners, support some form of stricter gun limits, he noted.
The Justice Department has a plan to stop the spread of so-called "ghost gun," kits that contain the components and directions to put together firearms in as little as 30 minutes.
"Anyone from a criminal to a terrorist could buy this kit and, in as little as 30 minutes, put together a lethal weapon," he said. "But not anymore."
(Everytown for Gun Safety, which advocates for universal background checks and gun-control measures, is backed by Michael Bloomberg, founder and majority owner of Bloomberg News parent company Bloomberg LP.)