Biden Tells Netanyahu He Supports Cease-Fire in Gaza Pivot
(Bloomberg) -- President Joe Biden told Prime Minister Benjamin Netanyahu he'd support a cease-fire between Israel and Hamas after days of calling for calm but not publicly seeking an end to the conflict, a shift in the U.S. approach to the crisis following days of rising criticism.
"The president expressed his support for a cease-fire and discussed U.S. engagement with Egypt and other partners towards that end," White House Press Secretary Jen Psaki said in a statement, describing Biden's call with Netanyahu on Monday.
Hours earlier, Psaki rebuffed questions about why Biden and his top officials had avoided calling publicly for a cease-fire, saying "quiet" diplomacy was needed behind the scenes to resolve a conflict that has killed at least 222 people, mostly Palestinians living in the Gaza Strip.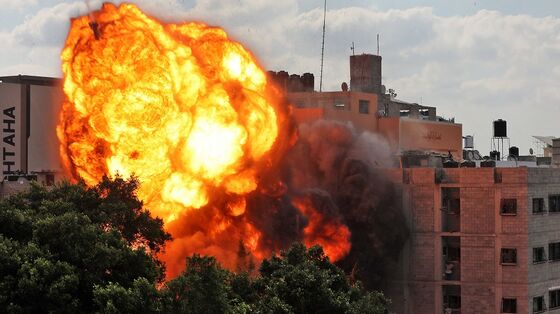 Biden's support for a cease-fire adds pressure on both sides to end a conflict that's seen militants fire more than 3,100 rockets and Israel pummels Gaza with air strikes and artillery since the latest fighting erupted about a week ago. At least three more projectiles were launched from southern Lebanon toward Israel on Monday night.
Until the latest call between the two leaders, the Biden administration's reluctance to press for a cease-fire was read by many analysts as a way of giving Netanyahu more space to go after Hamas, which runs Gaza and is considered a terrorist organization by the U.S., European Union, Japan and other nations.
Israeli officials say they have killed more than a dozen top Hamas commanders since fighting started, and Netanyahu on Sunday vowed to do "whatever it takes" to defend his country and "degrade" Hamas. Yet the political ground in the U.S. was shifting quickly, with a rising number of Democrats pressing for more concrete efforts to stop the violence. That effort gained momentum early Monday when Senate Majority Leader Chuck Schumer added his voice to that building consensus.
"I want to see a cease-fire reach quickly and mourn the loss of life," Schumer said.
The comments were significant because of Schumer's role as a key defender of Israel in Congress and ally of Biden, and they signaled that the president would have to move past what his press secretary called "quiet, intense" diplomacy and make more public calls for calm.
That diplomacy had largely taken the form of a series of phone calls by Secretary of State Antony Blinken, who embarked on a flurry of talks with counterparts from around the world to seek an easing of the conflict. In a call with Sheikh Abdullah bin Zayed, the foreign minister of the United Arab Emirates, he "discussed efforts to bring the current violence in Israel and the West Bank and Gaza to an end and halt the tragic loss of civilian life."
In an extended exchange with reporters before the call with Netanyahu, Psaki said she wasn't sure if Biden had seen the latest statement by a group of Senate Democrats calling for a cease-fire. She also wouldn't say whether Biden believed that Israel's actions in the conflict have gone too far.
Psaki instead emphasized dozens of calls made by the president and top officials seeking to resolve the crisis and said Biden was generally aware of the views held by members of Congress.
Analysts say Biden's initial reluctance to hold off on calling for a cease-fire helped him avoid a public fight with Netanyahu, which the Israeli leader "very well may have used for his own political benefit to look tough with his constituency at home and done little in the immediate to end the conflict," Ilan Goldenberg, the Middle East security director at the Center for a New American Security, said in a series of tweets on Monday.
Whatever the reason, there is little doubt the U.S. had pulled its punches, or stopped those of others from going out. Earlier Monday, the U.S. blocked a United Nations Security Council statement that would have called for a "cessation of violence." It previously rejected a request to hold a Security Council hearing last Friday, delaying it until Sunday.
In the meantime, Israel intensified its attacks on high-ranking militant Hamas commanders as well as the group's network of underground tunnels.
Some of the Israeli attacks have taken place at refugee camps, hospitals and schools, where Israel accuses Hamas of using human shields to try to protect its military operations. Palestinians say many of the victims have been civilians.