Biden Team Likely to Proceed With Trump China Investment Ban
(Bloomberg) -- The Biden administration is likely to maintain pressure on China by preserving limits on U.S. investments in certain Chinese companies imposed under former President Donald Trump, six people familiar with the matter said, bucking entreaties from Wall Street to ease the restrictions.
Biden officials are still in preliminary discussions about Trump's investment bans on companies linked to China's military, which included three of the country's biggest telecommunications firms, the people said. No decision has been made.
The people familiar with the matter asked not to be identified because discussions on the ban are not public.
President Joe Biden is trying to navigate a fraught relationship with Beijing, as tensions flare over issues ranging from trade to human rights to military postures in the South China Sea. The investment blacklist, which Trump announced in November, touched off a new conflict, prompting China to threaten possible legal action against global firms that followed the U.S. ban.
Spokespeople for the Treasury Department and the National Security Council declined to comment.
American depositary receipts for some of China's biggest companies touched session lows on the news. Alibaba Group Holding Ltd. fell as much as 1.7%, while Baidu Inc. slid 2.8%. Tencent Holdings Ltd. dropped 1.2%.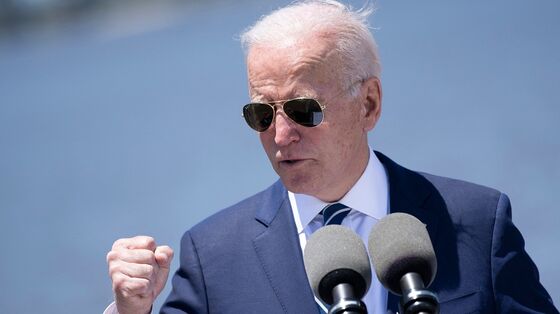 The Biden administration is likely to find broad support in Congress for a tough stance on China.
"It is commonsense that U.S. dollars should not flow to entities close to the Chinese Communist Party's military, which is building weapons and capabilities designed to kill American service members," Senator Marco Rubio, a Florida Republican, said in an e-mailed statement.
"The Biden administration should reject any efforts by the investor class to erode the Trump-era sanctions, and it should work with Congress to codify those penalties into law," he added.
The blacklist is not only a sore point in China but also on Wall Street. The financial sector has urged the Biden administration to completely roll back the investment ban, according to four people in the industry. At the least, banks want clear guidance from Treasury's Office of Foreign Assets Control, or OFAC, on compliance with the ban.
Trump's administration confused markets with conflicting announcements about the sanctions during his final months in office. Stock exchanges and investors were left confused when Trump announced in November that U.S. persons would be banned from investments in any firm on the Treasury Department's newly created list of "Communist Chinese Military Companies."
Following the announcement, the New York Stock Exchange said it would delist three large Chinese telecom companies, only to reverse that decision amid confusion over the scope of the ban. The exchange reinstated its plan after pressure from then-Treasury Secretary Steven Mnuchin.
To clarify, in January Mnuchin's Treasury Department issued a statement naming China Mobile Ltd., China Telecom Corp. and China Unicom Hong Kong Ltd. as the companies that must be delisted.
"The global financial institutions that deal with these Chinese military company securities are stymied," said John Smith, a former top sanctions official at the Treasury Department and now a partner at law firm Morrison & Forrester. "All the trading that would normally be done by the biggest global institutions around has stopped because they are deathly afraid of violating U.S. sanctions."
OFAC has put out limited guidance on how big banks employing thousands of Americans who must comply with the investment ban can conduct business that spans across global trade, Smith said.
The Biden administration missed an April 15 deadline to submit a fresh list of Chinese military-linked companies to Congress. The list is compiled by Pentagon officials who have access to classified materials and can determine which companies benefit the Chinese military.
"The challenge is, every day we continue to study the problem is another day where money continues to flow to companies that are engaging in bad behavior," Representative Michael McCaul, the top Republican on the House Foreign Affairs Committee, said in a statement.
U.S. investors have a year to exit companies once they appear on the blacklist. For the companies that appeared on the original list last year, investors have until May 27 to wind down new transactions and until Nov. 11 to fully divest.
A U.S. defense policy law enacted in January over Trump's veto allows the Biden administration to expand the investment ban to cover more of the Chinese technology sector, including any company tied to espionage, human rights abuses or manufacturing. The president's advisers are aware of the possibility but haven't decided on a recommendation, one of the people said.
Treasury Secretary Janet Yellen and her team have indicated a continuation of the Trump administration's tough stance on China.
"It is critical that we use Treasury's tools to hold China accountable for actions they take that are not consistent with international law and that put our national security at risk," Wally Adeyemo, deputy Treasury secretary, said in February during his Senate confirmation hearing. Part of that is to take "a critical look at how Chinese firms may be using our financial system to do just that."