Biden Team Hunts for Tanden Votes as Senate Opposition Grows
(Bloomberg) -- The White House is still fighting to win confirmation for President Joe Biden's nominee as budget director, Neera Tanden, eyeing a handful of Republicans who haven't yet said how they'll vote, while a prominent Democratic aide, Shalanda Young, has emerged as a leading alternative for the job.
Young is a former appropriations aide to House Democrats who was lined up to be Tanden's deputy at the Office of Management and Budget. Gene Sperling, former director of the National Economic Council under both Presidents Bill Clinton and Barack Obama, is also under consideration should Tanden's nomination fail, according to two people familiar with the matter.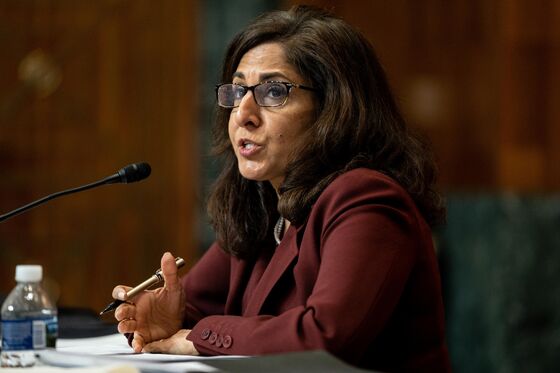 The possibility that Tanden would win confirmation, already precarious, narrowed further on Tuesday. Republican Senator Shelley Moore Capito of West Virginia plans to vote against the budget nominee, according to her spokeswoman, Kelley Moore.
Capito joins several Republicans once considered as persuadable in opposition to Tanden's nomination, including Mitt Romney, Rob Portman and Susan Collins. They, along with Democratic Senator Joe Manchin, have publicly said they would not support Tanden over "mean tweets," in the words of a Romney spokesman.
Biden needs just one GOP vote to make up for Manchin for the nomination to succeed. But there are two other wild cards: Democratic Senator Kyrsten Sinema and independent Bernie Sanders haven't said whether they'll support Tanden. Their opposition would require additional Republican votes for Tanden to win confirmation.
One possible GOP vote is Alaska Republican Lisa Murkowski, who said Tuesday that she's undecided. It's not clear whether any others are open to supporting Tanden.
"We're going to push," Biden told reporters Tuesday at the White House. "We still think there's a shot, a good shot."
Tanden has had meetings with 44 senators, and has spoken with 15 since Friday, White House Press Secretary Jen Psaki said Tuesday.
"There is one candidate to lead the budget department -- her name is Neera Tanden," Psaki said when asked about potential alternatives.
The White House declined to comment on which senators are being approached in an effort to move forward with Tanden.
Before Tanden was nominated for OMB director, the Center for American Progress leader maintained a pugnacious Twitter account where she lambasted and sparred with political adversaries, sometimes using derisive nicknames, like "Moscow Mitch" for Republican Leader Mitch McConnell.
She would be the first woman of color and first American of South Asian descent to hold the White House budget director job. But she is the first Biden cabinet nominee who didn't enjoy the full support of Senate Democrats.
Before her nomination, Tanden deleted more than 1,000 of her tweets -- a move that has led to GOP allegations she may not be fully transparent as a White House official. She promised to take a radically different approach to communicating if confirmed during one of her Senate hearings.
White House Chief of Staff Ron Klain remains committed to fighting for Tanden, according to two people familiar with the process, but Biden aides are also now considering Young and Sperling as the primary backup choices.
The race to save Tanden's nomination kicked off in earnest on Friday, when Manchin said he would not support her confirmation.
Young would bring to the job the backing of Democratic House lawmakers, who have praised her 14-year tenure on the House Appropriations Committee. As a Black woman, she would also help Biden keep to his stated commitment to seek diversity within his cabinet.
Sperling would bring to the job extensive experience in both the federal government and economic policy making, having served as the head of White House NEC under Clinton and Obama. Sperling also served as counselor to Treasury Secretary Timothy Geithner during the Obama administration and was heavily involved in the development of Obama's $787 billion stimulus package in 2009 as well as the auto-industry bailout.