Biden's Team Amps Up Its Warnings to the Unvaccinated as Omicron Spreads
(Bloomberg) -- President Joe Biden's administration issued some of its most sobering warnings to the unvaccinated yet, saying they face death and will raise pressure on the U.S. health system as the omicron variant spreads.
"For the unvaccinated, you're looking at a winter of severe illness and death -- for yourselves, your families and the hospitals you may soon overwhelm," Jeff Zients, Biden's Covid-19 response coordinator, said in a briefing on Friday.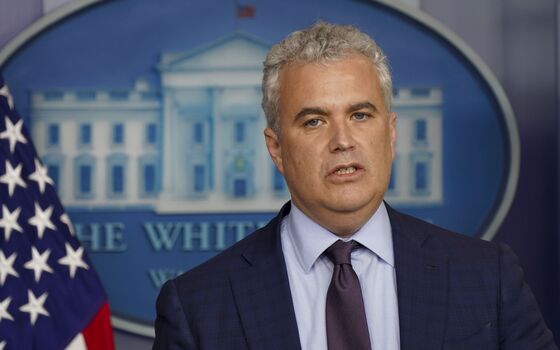 Zients's remark echoed a similar warning from Biden on Thursday, and he emphasized the death toll to underscore the point, saying, "160,000 unvaccinated people have already needlessly lost their lives since June." 
"This number will continue to go up until the unvaccinated take action, so I'll say it once more: Get vaccinated," Zients added.
For more coverage
Omicron Gets Around Previous Covid Infection, Study Warns
Pfizer Studies 3-Dose Covid Shot for Young Kids as Parents Wait
Moderna Shot Had More Heart Risk Than Pfizer's in Danish Study
Rockettes Shows Canceled; NYC Won't Close Schools: Virus Update
The White House is escalating its warnings to the unvaccinated as another surge in the pandemic gathers force. New York state -- along with New Jersey, the region that's the epicenter of omicron's foothold in the U.S. -- reported 21,027 new cases on Friday, its largest single-day total ever.
The spike in cases, and warnings of omicron's increased transmissibility, have forced some schools and businesses to scrap in-person events, cancel holiday parties and slow plans to return to the office. Health officials have long warned that holiday gatherings could accelerate a new wave in cases -- one already fueled by both the delta and omicron variants.
The 7-day national moving average of cases is about 120,000, which is still below peaks seen in the late summer after delta's surge but well above levels seen in the spring, CDC data show.
Nonetheless, Zients and other officials assured vaccinated Americans that breakthrough cases of Covid-19 are likely to be mild.
"The more people get vaccinated, the less severe this omicron outbreak will be," Zients said. "If you are vaccinated, you could test positive, but if you do get Covid, your case will likely be asymptomatic or mild."
"We are intent on not letting omicron disrupt work or school for the vaccinated," he said. "You've done the right thing and we will get through this."
CDC Director Rochelle Walensky said omicron has been found in at least 39 states and is expected to become the dominant strain in the U.S. in the coming weeks. 
"We've seen cases of omicron among those who are both vaccinated and boosted, and we believe these cases are milder or asymptomatic because of vaccine protection," she said. "What we do know is we have the tools to protect ourselves against Covid-19."
Anthony Fauci, the director of the National Institute of Allergy and Infectious Diseases, said it's not yet known whether omicron causes more severe disease than earlier variants, but "we have to withhold judgment about the severity being less."
He called two doses of a vaccine plus a booster shot "optimal" protection.