Biden Sets Goal of Shots for 70% of U.S. Adults by July 4
(Bloomberg) -- President Joe Biden set a target of 70% of U.S. adults receiving at least one dose of a Covid-19 vaccine by July 4 and said the government will "wind down" mass vaccination sites, as his administration seeks to stem a dropoff in inoculations.
Biden said Tuesday at the White House that he's also aiming for 160 million adults to be fully vaccinated by Independence Day. And he said that if the Food and Drug Administration authorizes Pfizer Inc.'s vaccine for use in children as young as 12, as anticipated, 20,000 pharmacies across the country are prepared to give them shots.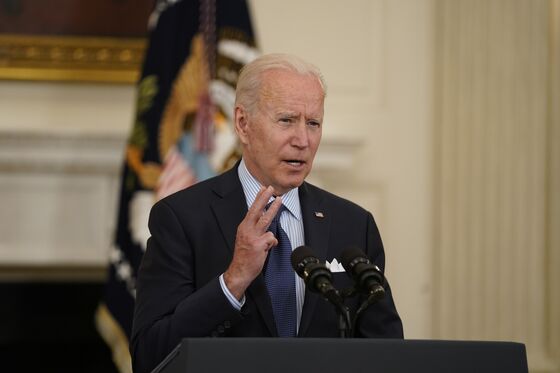 "We're going to have to bring the vaccine to people who are less eager," Biden said. But he added: "We're going to make it easier than ever to get vaccinated."
To help Americans more easily obtain shots, Biden said, the government has begun encouraging vaccination sites to offer walk-in appointments.
"Walk into your local pharmacy without an appointment," he said. "Every adult is eligible. Go get the shot as soon as you can."
As of now, 56% of U.S. adults, or 145 million, have received at least one dose and nearly 41%, or about 105 million, are fully vaccinated, according to the Centers for Disease Control and Prevention.
The U.S. is quickly exhausting the pool of people who want a vaccine and is shifting efforts to focus on those who are less motivated, or who are skeptical about the Covid-19 vaccine. Vaccinating large numbers of people is key to limiting the emergence of dangerous new variants of the virus, health experts say.
Biden said vaccine hesitancy can be best overcome by Americans seeing people close to them getting shots without ill effect. "As more and more Americans see their friends and family get vaccinated, they're making the choice to get vaccinated themselves," he said.
"This is not a Democrat or Republican issue," he said, though polling shows Republicans are more likely to have reservations about being vaccinated. "Science behind the vaccines has been under development for decades."
Biden's goal would be attainable if the U.S. manages to vaccinate Americans at roughly half the pace as over the past month. Administration officials defended the goals as sufficiently ambitious, saying they would still need to administer close to 100 million doses to adults over the next two months. That pace wouldn't include additional doses that would be administered to adolescents if the vaccine is authorized for those under 16 years old.
Also Tuesday, the White House told governors in a phone call that any unclaimed shots in their states will be redirected to a pool of doses available for distribution elsewhere, according to people familiar with the discussion. The administration had previously allocated shots evenly to states, based on adult population, regardless of how many injections were given.
The White House said the administration is making nearly $1.5 billion in funds from the coronavirus rescue package available for community organizations, rural health clinics, and state and local governments as part of the push to increase vaccination and testing rates in underserved areas.
Biden's moves come as the seven-day average of shots has fallen to 2.3 million, from 3.4 million, in about three weeks, according to data compiled by the Bloomberg Vaccine Tracker. The U.S. administered 1.2 million shots on Monday, the lowest daily total since February, though Monday is typically a slower day for vaccination data.
The federal government has delivered 312.5 million doses of vaccines, of which 246.9 million, or 79%, have been recorded as administered.
Biden has regularly implored Americans to get a vaccine, avoid large crowds and continue Covid-19 mitigation efforts a bit longer to drive the caseload down in time for July 4 celebrations.