Biden Tapping Obama's Biggest Financial Backers for Early Money
(Bloomberg) -- Joe Biden is heading to California next month to raise money for his presidential campaign with the help of some of former President Barack Obama's biggest financial backers.
Former Google chairman Eric Schmidt, movie mogul Jeffrey Katzenberg and Obama's 2012 finance director Rufus Gifford are among the hosts listed on the invitation to a May 8 fundraiser in Los Angeles. The event will be at the home of former U.S. Ambassador to Spain James Costos and Michael Smith, an interior designer who helped the Obamas with their White House decor.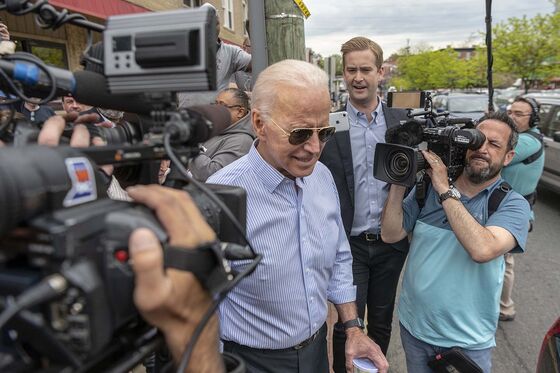 Costos isn't the only Obama fundraiser turned ambassador on the invite. Gifford served as U.S. ambassador to Denmark, while Colleen Bell, a producer of TV soap operas, was ambassador to Hungary. Actor Rob Reiner, a longtime liberal activist, and his wife Michele are also listed on the invitation.
Co-hosts are being asked to raise at least $10,000, while individual tickets are the federal primary maximum of $2,800.
Biden announced his campaign on Thursday and his team and supporters have set up a flurry of fundraising and campaign events to demonstrate his status as the early front-runner of the 20 candidates seeking the Democratic presidential nomination. While many of the other leading contenders are emphasizing their online contributions from small-dollar donors, Biden is taking a more traditional route at the start of his campaign.
In addition to the California event, Comcast Corp. executive David Cohen and his wife Rhonda are hosting a fundraiser Thursday night, along with former Pennsylvania Governor Ed Rendell, former Philadelphia Mayor Michael Nutter, Philadelphia lawyers Steve Cozen and Alan Kessler, along with Pennsylvania Senator Bob Casey, Delaware Representative Lisa Blunt Rochester and six Pennsylvania representatives.
Many big donors are waiting for the historically crowded field of Democratic candidates to fully form and eventually shrink before committing to a candidate. But a dozen of the 33 people listed as part of the host committee for the California fundraiser also gave to one of Biden's rivals in the first quarter, Federal Election Commission records show.
Katzenberg, among the earliest Hollywood heavyweights to back Obama in 2007, gave $2,800 apiece to three White House hopefuls during the first quarter of the year: Senators Kamala Harris of California, Cory Booker of New Jersey and Kirsten Gillibrand of New York. Schmidt also donated $2,800 to Booker.
Bell gave $2,800 donations to Harris and Booker. Chris Silbermann, managing director of ICM Partners LLC, gave $2,800 to Booker and $2,700 to Harris. Craig Gering of Creative Artists Agency gave $2,700 to Harris and $500 to Beto O'Rourke.