Biden Says He's Praying for 'Right Verdict' in Floyd Case
(Bloomberg) -- President Joe Biden said Tuesday he's praying for "the right verdict" in the trial of the police officer charged with George Floyd's murder, and that he called Floyd's family after the jury began its deliberations.
"I can only imagine the pressure and anxiety they're feeling, and so I waited until the jury was sequestered and I called," Biden told reporters on Tuesday, after White House Press Secretary Jen Psaki announced the call earlier.
The outreach came on the same day the jury began deliberations on the fate of Derek Chauvin, the police officer who knelt on Floyd's neck until his death. The May 2020 episode sparked nationwide protests as graphic video recordings from bystanders were circulated, adding to unrest over the repeated killings of Black people at the hands of police officers.
Floyd's family is "calling for peace and tranquility no matter what that verdict is," Biden said, adding that he is "praying the verdict is the right verdict."
He said the evidence is "overwhelming" in favor of one verdict, without specifying which one.
Chauvin is charged with second-degree murder, third-degree murder and manslaughter, and faces up to 40 years in prison. Closing arguments were delivered Monday and the jury announced Tuesday afternoon that it reached a verdict.
Biden's comments could prompt additional scrutiny after Chauvin's defense had already asked the judge to declare a mistrial, pointing to comments from Democratic Congresswoman Maxine Waters, who suggested over the weekend that protesters "get more confrontational" if Chauvin is acquitted. Judge Peter Cahill rejected the request, but said Waters's comments could help Chauvin appeal a possible guilty verdict.
Representative James Clyburn of South Carolina, the No. 3 House Democrat, defended Waters in a Bloomberg Television interview Tuesday, saying the Constitution protects the right to free speech and the redress of grievances.
"I'm a little bit incensed that this would be politicized by the leadership of the Republican Party," Clyburn said. Clyburn faulted Republican leaders for not saying anything about Republican Representative Mo Brooks's comments at a rally ahead of the January 6th insurrection.
"Maxine wasn't even in Washington when her remarks were made, and they don't even come close to what Mo Brooks said, and it led to an insurrection and some deaths," he said.
Clyburn's Republican counterpart, Steve Scalise, said Waters should apologize.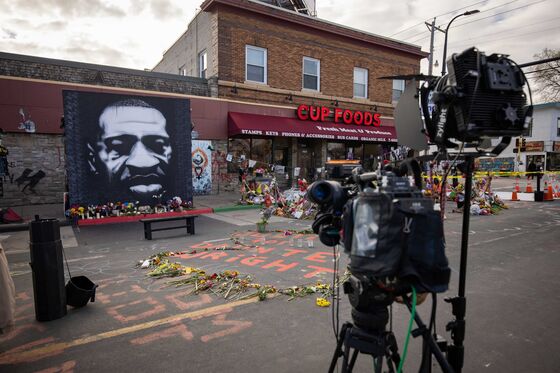 "I'd like to see Maxine Waters apologize for the inflammatory comments that she's made inciting violence. It's a powder keg down there. The last thing you want to do is make it worse," Scalise, of Louisiana, said.
A proposal by House Minority Leader Kevin McCarthy to censure Waters for her remarks was blocked by Democrats on a 216-210 vote Tuesday.
Clyburn said he's hopeful about the outcome of the case.
"I think that all of us saw a legal lynching taking place," he said. "My hope is that the members of that jury feel what so many of us saw."
He said whatever the outcome he hoped the public would follow Biden's lead and the peaceful example set after the killings of nine Black parishioners by a White supremacist at the Emanuel AME Church in Charleston, South Carolina, in 2015.
Tensions escalated during the Chauvin trial when Daunte Wright, a 20-year-old Black man, was shot and killed by an officer in nearby Brooklyn Center, Minnesota. Biden pleaded for calm in the aftermath of Wright's death as officials brace for potential fallout from the verdict in Chauvin's trial.
Psaki said the White House has been in communication with governors, mayors and local authorities to prepare for the verdict. She also called for any protests to remain peaceful.
The verdict places Biden in a challenging position, trying to show support for law enforcement while acknowledging the impact of repeated police abuses against Black Americans, who were key in voting him into the White House.
Biden has pledged to put race and equity at the center of his administration's legislative efforts.
Psaki said Biden will likely make a statement once the verdict is rendered in the case.
"Regardless of the outcome, the president has consistently called for peace," Psaki said at a Tuesday press briefing. "And our focus as we are working with state and local authorities is on providing the space for peaceful protest and that will be consistent regardless of what the outcome of the verdict is."