Biden Solidifies Primary Lead in Trio of Post-Announcement Polls
(Bloomberg) -- Former Vice President Joe Biden has surged into the lead in a crowded field of 2020 Democratic presidential contenders, according to three polls released Tuesday.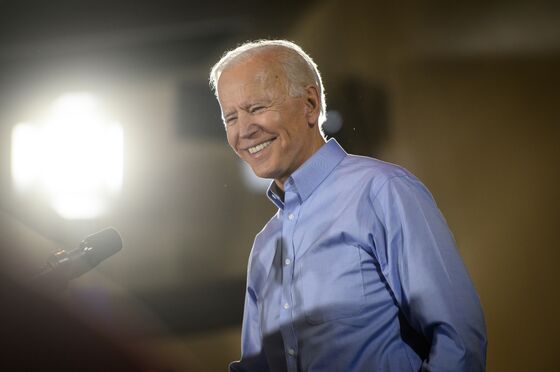 With Biden set to visit Iowa today to press his case that he's the Democrat best positioned to deny President Donald Trump a second term, a CNN poll registered an 11-point bounce for the race's newest entrant, with 39 percent of voters who are Democrats or Democratic-leaning independents saying he is their top choice for the nomination.
That puts Biden 20 points ahead of his next-closest rival, Senator Bernie Sanders of Vermont. The poll found Biden leading every demographic group.
Biden more than doubled his advantage over Sanders, from 6 to 14 points, among likely Democratic primary voters according to a Morning Consult poll. Among likely New Hampshire Democratic primary voters, a Suffolk University/Boston Globe survey showed Biden leading with support from 20 percent followed by Sanders' 12 percent.
In a speech Monday at a union hall in Pittsburgh, Biden said he's making his third run at the presidency to rebuild the American middle class, which he called "the backbone of this nation."
He called for a $15-an-hour minimum wage, letting people buy into a public Medicare option for health insurance and repealing President Trump's 2017 tax cuts.