Biden Shifts Campaign Leadership, Gives Anita Dunn New Role
(Bloomberg) -- Veteran Democratic operative Anita Dunn is taking on a larger role in Joe Biden's presidential campaign after his bruising fourth-place finish in the Iowa caucus.
Campaign manager Greg Schultz and campaign chairman Steve Ricchetti said in an email to staff that Biden asked Dunn to take on "an expanded role in the headquarters."
Dunn "will be working closely with us on campaign strategy and overall coordination on budget and personnel as we build a bigger campaign for the next phase," Schultz and Ricchetti said.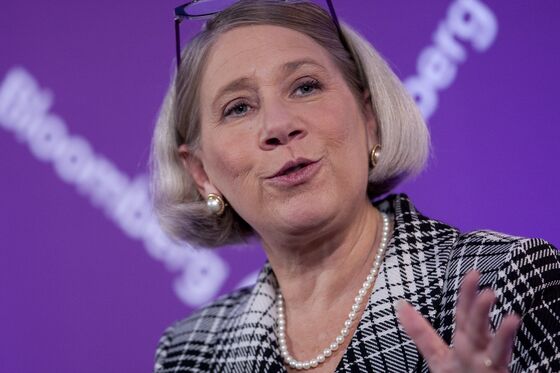 The email obtained by Bloomberg News described Biden's Iowa finish as "disappointing" but urged staff to keep going. Biden has "been knocked down plenty of times, and he always gets back up. Always."
Dunn's new role was first reported by the New York Times.
Campaign officials played down Dunn's new role on a call with reporters before Friday's debate, arguing that it was not a reshuffling of the top of the campaign structure but instead giving her a slightly bigger portfolio . Asked who was in charge of the campaign, one official answered that Biden is.
The officials sought to lower expectations for a Biden comeback in New Hampshire, noting that rivals Bernie Sanders and Elizabeth Warren come from neighboring states and that Pete Buttigieg has performed well with white voters. They didn't say whether Biden needed to win in Nevada but did look ahead more broadly to states with more diverse electorates than Iowa and New Hampshire, where they believe Biden will still be able to accumulate enough delegates to become the Democratic nominee.
Pressed on whether the campaign is running out of money, one official denied it, saying the campaign has enough money to run the race as they've planned for it.
The email also refers in vague terms to the departure of some of Biden's Iowa staff, including state director Jake Braun and field director Adrienne Bogen. "This week we said goodbye to some colleagues who moved on after the caucus to do everything from teaching classes to getting married," the email said.
The move comes as Biden's campaign works to strengthen its operations ahead of what's likely to be a lengthy and expensive nominating process. His campaign last week announced the addition of several major fundraisers to its finance committee and is hiring more staff to work in the states with upcoming primaries, as well as staff to coordinate those employees from the campaign's Philadelphia headquarters.
Dunn has worked on several presidential campaigns, including Barack Obama's in 2008, and was his interim White House communications director for seven months in 2009. She is managing director of strategic communication firm SKDKnickerbocker.
(Disclaimer: Michael Bloomberg is also seeking the Democratic presidential nomination. He is the founder and majority owner of Bloomberg LP, the parent company of Bloomberg News.)